Sentencing By Nigel Walker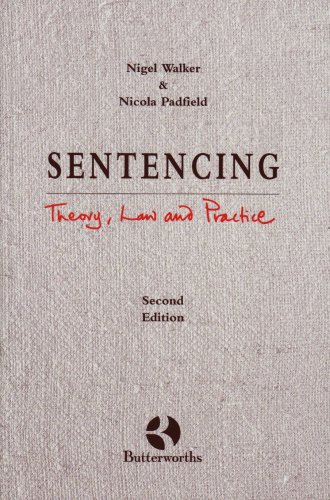 Used Price
$23.99
inc. GST
Free Shipping in Australia
What are sentencers' new statutory powers? How are they affected by case law and practice directions? What are their unstated aims and assumptions? What is their effect in real life? Who suffers from discrimination? What is the relevance of public attitudes, stigma, dangerousness? This textbook sets out to ask and answer all these questions.
Only 1 left
---
Sentencing Summary
---
Sentencing: Theory, Law and Practice by Nigel Walker
" A highly respected and authoritative account of sentencing theory, law and practice and the set text on a number of criminal justice courses. Features comprehensive coverage of the sentencing powers and practices of the Crown Court, magistrates' courts and the Court of Appeal"
Customer Reviews - Sentencing
---
Why buy from World of Books
Table of Contents
---
PART I; General; 1. Sentencing procedure and appeals; 2. Information about the offender; 3. The relevance of explanations; 4. Aggravation and mitigation; 5. Discrimination and mercy; 6. Background information; 7. The efficacy of correctives; 8. General deterrence and education; 9. Sentencers' aims; PART II; Imprisonment; 10. Using imprisonment; 11. Imprisonment's wanted and unwanted effects; 12. Administration, location, allocation; 13. Rules, grievances and rights; 14. Getting out; PART III; Non-custodial measures; 15. Diversion and nominal measures; 16. Financial measures; 17. Community penalties; 18. Philosophies and effectiveness of supervision; 19. The control of stigma; PART IV; Special categories; 20. Young adult offenders; 21. Mentally disordered offenders; 22. Dangerous offenders; 23. Traffic offenders; 24. The executive and the judiciary; Index
Additional information
Sentencing: Theory, Law and Practice by Nigel Walker
Book picture is for illustrative purposes only, actual binding, cover or edition may vary.
The book has been read but remains in clean condition. All pages are intact and the cover is intact. Some minor wear to the spine.