The Procrastination Equation By Piers Steel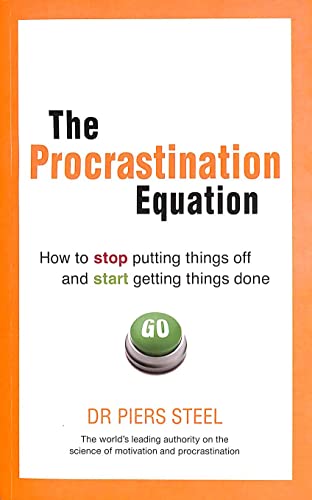 The Procrastination Equation
N/A
10 in stock
---
The Procrastination Equation Summary
---
The Procrastination Equation: How to Stop Putting Things Off and Start Getting Stuff Done by Piers Steel
Procrastination or at least lack of motivation is endemic. A massive 95% of us admit to procrastinating. For 20% of us the problem is chronic and it affects our health and wealth, success and happiness. And the problem is getting worse rates have quadrupled since the 1970s.
We all recognise it, we all want to understand it and to have a breakthrough moment that helps us be more productive, less guilty and ultimately happier.
Scientifically rigorous, hugely entertaining, compelling and readable, this book will solve your problems of procrastination and get you motivated to live the life you want. Based on 10 years of award winning scientific research and written by the foremost scientist in the field, this book contains new techniques for dealing with the problem. There are still scientifically proven techniques for controlling and improving motivation that have not yet been tapped and translated into accessible terms this is the book that does it for the first time.
Why buy from World of Books
The Procrastination Equation Reviews
---
"Procrastinating just makes unpleasant tasks worse, so why is it so hard for us to resist dithering and delay? The Procrastination Equation is crammed with surprising insights about procrastination and human nature -- as well as concrete, helpful solutions for fighting procrastination." (Gretchen Rubin, author of The Happiness Project )

"Procrastination is the saffron spice of human behavior, where even small amounts of this tendency can shatter the best of intentions. In this illuminating book Piers Steel shows us the secrets of procrastination, how it affects us and how we will, one day, be able to prevail." (Dan Ariely, author of The Upside of Irrationality and Predictably Irrational )

"The Procrastination Equation will teach you how to bust the excuses that are preventing you from doing your best work and living your best life. . . . So don't put it off any longer. Read this book. Today." (Daniel H. Pink, author of Drive and A Whole New Mind )

"An upbeat, motivational guide to procrastination. . . . Everything you ever wanted to know about procrastination but never got around to reading." (Kirkus Reviews )
About Piers Steel
---
Dr. Piers Steel is an internationally recognised expert on human motivation and the foremost authority on why people put things off. A professor of Human Resources and Organizational Dynamics at the University of Calgary's Haskayne School of Business, he's spent the last ten years studying procrastination and the decades before that embodying it
Table of Contents
---
Author's Note
1 Portrait of a Procrastinator
2 The Procrastination Equation: The result of eight hundred studies plus one
3 Wired for Procrastination: Putting off is human nature
4 ProcrastiNations: How modern life ensures distraction
5 The Personal Price of Procrastination: What we miss, what we lose and what we suffer
6 The Economic Cost of Procrastination: How businesses and nations lose
7 Optimizing Optimism: Balancing under- and over-confidence
8 Love It or Leave It: Finding relevance in work
9 In Good Time: Managing short-term impulses and long-term goals
10 Making It Work: Putting the pieces into practice
Postscript: Procrastination's Chapter 11
Acknowledgments
Endnotes
Additional information
The Procrastination Equation: How to Stop Putting Things Off and Start Getting Stuff Done by Piers Steel
Pearson Education Limited
Book picture is for illustrative purposes only, actual binding, cover or edition may vary.
This is a used book - there is no escaping the fact it has been read by someone else and it will show signs of wear and previous use. Overall we expect it to be in very good condition, but if you are not entirely satisfied please get in touch with us.