Plant Virology By R. E. F. Matthews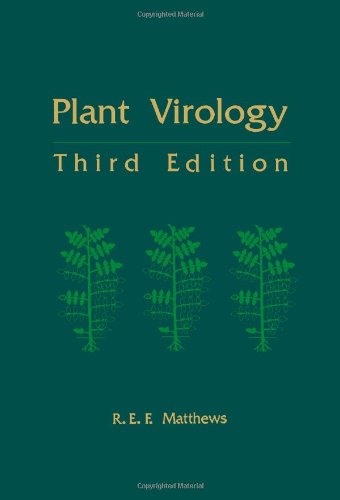 Plant Virology
by R. E. F. Matthews
Containing material new to previous editions, including information on the application and results of gene manipulation techniques, this volume covers all aspects of plant virology from the molecular to the ecological.
Only 0 left
---
Plant Virology Summary
---
Plant Virology by R. E. F. Matthews
Major developments have taken shape in the ten years since the publication of Plant Virology, Second Edition. This Third Edition of the leading comprehensive text and reference for the field contains more than sixty percent new material, including applications and results of gene manipulation techniques. As with the first and second editions, this volume covers all aspects of plant virology, from molecular to ecological. Plant Virology, Third Edition, is intended for graduate students, researchers, and teachers in plant virology, plant pathology, general virology, and microbiology, and scientists in related areas of molecular biology, biochemistry, plant physiology, and entomology.
Why buy from World of Books
Plant Virology Reviews
---
"This is an excellent textbook for a graduate level course in plant virology... For virologists, plant pathologists, and other biologists whose teaching or research activities have some relation to the plant viruses, this should be a most useful reference work."--BIOSCIENCE"The text is highly readable and the form of the volume is outstanding. This book gives up-to-date information of nearly all aspects of plant virology and can be highly recommended for students and researchers."--ACTA PHYTOPATHOLOGICA"The author is experienced in many of the areas which he covers, and writes clearly and critically about them all."--AMERICAN SCIENTIST"Highly recommended."--CHOICE
Table of Contents
---
Methods for assay detection and diagnosis; isolation; components; architecture; replication 1 - introduction to the study of virus replication; replication 2 - viruses with SS positive sense RNA genomes; replication 3 - other virus groups and families; viroids, satellites, viruses, and satellite RNAs; transmission, movement, and host range; disease symptoms and effects on metabolism; induction of disease; variability; relationships between plant viruses and invertebrates; ecology; economic importance and control; nomenclature, classification, origins, and evolution.
Additional information
Plant Virology by R. E. F. Matthews
Elsevier Science Publishing Co Inc
Book picture is for illustrative purposes only, actual binding, cover or edition may vary.
This is a used book. We do our best to provide good quality books for you to read, but there is no escaping the fact that it has been owned and read by someone else previously. Therefore it will show signs of wear and may be an ex library book.