New Spring By Robert Jordan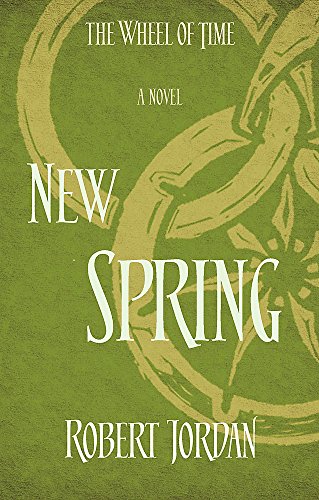 New Spring
Used Price
$23.49
inc. GST
Free Shipping in Australia
A prequel novel to the globally bestselling Wheel of Time series - a fantasy phenomenon
Out of stock
---
New Spring Summary
---
New Spring: A Wheel of Time Prequel by Robert Jordan
The prequel novel to the globally bestselling Wheel of Time series - a fantasy phenomenon

The city of Canluum lies close to the scarred and desolate wastes of the Blight, a walled haven from the dangers away to the north, and a refuge from the ill works of those who serve the Dark One. Or so it is said. The city that greets Al'Lan Mandragoran, exiled king of Malkier and the finest swordsman of his generation, is instead one that is rife with rumour and the whisperings of Shadowspawn. Proof, should he have required it, that the Dark One grows powerful once more and that his minions are at work throughout the lands.

And yet it is within Canluum's walls that Lan will meet a woman who will shape his destiny. Moiraine is a young and powerful Aes Sedai who has journeyed to the city in search of a bondsman. She requires aid in a desperate quest to prove the truth of a vague and largely discredited prophecy - one that speaks of a means to turn back the shadow, and of a child who may be the dragon reborn.

'Epic in every sense' - Sunday Times

'With the Wheel of Time, Jordan has come to dominate the world that Tolkien began to reveal' New York Times

'A fantasy phenomenon' SFX

The Wheel of Time
The Eye of the World
The Great Hunt
The Dragon Reborn
The Shadow Rising
The Fires of Heaven
Lord of Chaos
A Crown of Swords
The Path of Daggers
Winter's Heart
Crossroads of Twilight
Knife of Dreams
The Gathering Storm
Towers of Midnight
A Memory of Light

New Spring (prequel)
Customer Reviews - New Spring
---
Why buy from World of Books
New Spring Reviews
---
Epic in every sense * Sunday Times *
A fantasy phenomenon * SFX *
With the Wheel of Time, Jordan has come to dominate the world that Tolkien began to reveal * New York Times *
About Robert Jordan
---
Robert Jordan was born in 1948 in Charleston. He was a graduate of the Citadel, the Military College of South Carolina, with a degree in physics, and served 2 tours in Vietnam. His hobbies inc. hunting, fishing, sailing, poker, chess, pool and pipe collecting. He died in September 2007.
Additional information
New Spring: A Wheel of Time Prequel by Robert Jordan
Book picture is for illustrative purposes only, actual binding, cover or edition may vary.
This is a used book - there is no escaping the fact it has been read by someone else and it will show signs of wear and previous use. Overall we expect it to be in very good condition, but if you are not entirely satisfied please get in touch with us.