The Life of Mr Richard Savage By Samuel Johnson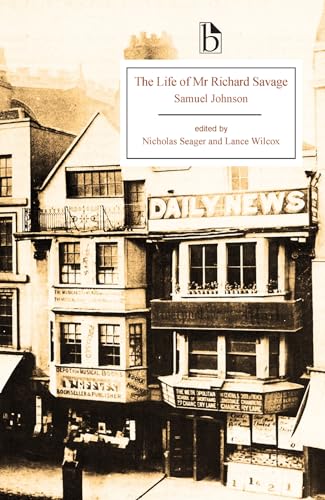 The Life of Mr Richard Savage
Used Price
$30.99
inc. GST
Free Shipping in Australia
The only student edition of Samuel Johnson's great eighteenth-century literary biography.
Only 1 left
---
The Life of Mr Richard Savage Summary
---
The Life of Mr Richard Savage by Samuel Johnson
The Life of Mr Richard Savage was the first important book by an unknown Grub Street hack, Samuel Johnson, who would later become the most celebrated British writer of the late 1700s. Richard Savage (1697-1743) was a poet, playwright, and satirist who claimed to be the illegitimate son of a late earl and to have been denied his inheritance and viciously persecuted by his mother. He was urbane, charming, a brilliant conversationalist, but also irresponsible and impulsive. His role in a tavern brawl almost led him to the gallows, though his life was saved by an eleventh-hour pardon by the King. Over time he attracted many supporters, practically all of whom he managed to alienate by the time of his death in a debtors' prison in Bristol. Johnson, who had been friends with Savage for a little over a year, drew on published documents and his own memories of Savage to produce one of the first great English biographies.

The edition is supplemented by other writings by Johnson, a selection of Savage's prose and verse, contemporary and posthumous responses to Savage and to Johnson's biography, and selections by Johnson's first two major biographers, John Hawkins and James Boswell. A discussion of factual errors in Johnson's account help the reader place the Life and the supplementary texts in their historical and intellectual contexts.
Customer Reviews - The Life of Mr Richard Savage
---
Why buy from World of Books
The Life of Mr Richard Savage Reviews
---
"Samuel Johnson's Life of Mr Richard Savage is one of the greatest narratives in any genre of the British eighteenth century. Johnson's biography of his friend, a minor poet and hack writer who represented himself as the illegitimate son of a nobleman and died in a Bristol jail, is at once sympathetic and satiric. Broadview's edition, freshly edited and annotated by Nicholas Seager and Lance Wilcox, should be welcomed by students and general readers alike. Their introduction is lively, informed, and concise. The narrative itself is supplemented by relevant writings of Johnson and Savage, excerpts establishing Savage's reputation, and a range of other useful aids." -- Robert Folkenflik, University of California, Irvine
"This deeply informed edition of The Life of Mr Richard Savage is essential reading for students both of Samuel Johnson and of biography. The literary criticism, editorial practice, reception history, and wide-ranging reclamation of contexts are exemplary. The edition also allows us to read Savage's poetry, which Johnson included in his footnotes but which Seager and Wilcox prudently place at the back of their book. They have joined Samuel Johnson to produce an admirable Savage that should find readers from the classroom to the boardroom." -- Howard Weinbrot, University of Wisconsin, Madison
"Like all Broadview editions, this is a first-rate version of Johnson's work. The introduction is a masterpiece of information. It explains who Johnson was when he took on this project, and why he would write such a work about his friend. Even more exciting are the appendices, devoted to such topics as related writings by Johnson; some of Savage's writings; Savage's contemporary reputation; Savage's posthumous reputation; and the lives of Johnson. A more useful text for the classroom could not be imagined." -- George E. Haggerty, Studies in English Literature 1500-1900
"This comprehensively researched edition breaks new ground in what we know of Savage, adds abundant dimensions to the study of his life and work, and recasts The Life of Mr Richard Savage as an ideal teaching text in the area of eighteenth-century literature." -- Joe Lines The Modern Language Review
About Samuel Johnson
---
Nicholas Seager is Senior Lecturer in English at Keele University, UK.

Lance Wilcox is Professor of English at Elmhurst College, USA.
Additional information
The Life of Mr Richard Savage by Samuel Johnson
Book picture is for illustrative purposes only, actual binding, cover or edition may vary.
This is a used book - there is no escaping the fact it has been read by someone else and it will show signs of wear and previous use. Overall we expect it to be in very good condition, but if you are not entirely satisfied please get in touch with us.