Spiritual Places By Sarah Baxter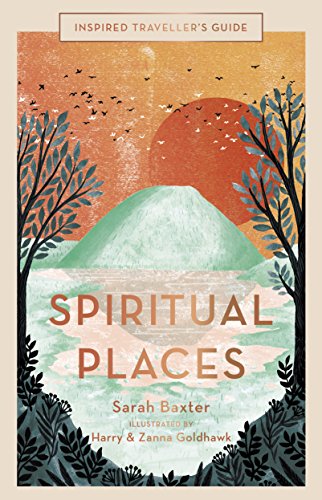 Used Price
$30.99
inc. GST
Free Shipping in Australia
Combining thoughtful text and beautiful hand-drawn illustrations created exclusively for this book, Inspired Traveller's Guide Spiritual Places takes readers closer to these sacred sites than ever before by evoking the very spirit of each place.

Only 2 left
---
Spiritual Places Summary
---
Spiritual Places by Sarah Baxter
From the manmade splendour of the Easter Island Statues in the Pacific Ocean, to the medieval pilgrimage of Camino de Santiago that stretches to Spain, Inspired Traveller's Guide: Spiritual Places explores locations that will be a balm to the mind and a tonic to the soul.

Travel journalist Sarah Baxter has carefully curated a selection of the 25 most spiritual destinations from around the world - places that hold the promise of rare and profound experiences, whether areas of natural beauty imbued with spiritual significance or sites constructed for worship. From breathtaking scenery to religious capitals, sacred valleys to places of natural beauty, here the full spiritual story and unique tranquillity of each place is revealed with beautiful hand-drawn illustrations and evocative tales of previous visitors that will both delight and inspire.

Featured locations:
Camino de Santiago
La Mezquita
Isle of Iona
Avebury
Mont St-Michel
Lourdes
Wittenberg Castle Church
Mount Olympus
St Catherine's Monastery
Temple Mount and Old Jerusalem
Kyoto
Shwedagon Paya
Adam's Peak
Varanasi and the Ganges
Mount Kailash
Cape Reinga
Uluru
Crater Lake
Mauna Kea
Devil's Tower
S'Gang Gwaay
Teotihuacan
Saut-d'Eau
Lake Titicaca
Easter Island

Perfect for those who want to get away from it all, this book takes you closer to these sacred locations than ever before.
Why buy from World of Books
About Sarah Baxter
---
Sarah Baxter grew up in Norfolk, England and now lives in Bath. Her passion for travel and the great outdoors saw her traverse Asia, Australia, New Zealand and the United States before settling into a writing career. She was Associate Editor of Wanderlust magazine, the bible for independent-minded travellers, for more than ten years and has also written extensively on travel for a diverse range of other publications, including the Guardian, the Telegraph and the Independent newspapers. Sarah has also contributed to more than a dozen Lonely Planet guidebooks.
Table of Contents
---
Featured Locations
St Catherine's Monastery
Kyoto
Shwedagon Pagoda
Adam's Peak
Ganges (Varanasi)
Mount Kailash
Cape Reinga
Uluru
Saut d'Eau waterfall
Camino de Santiago
Mezquita de Cordoba
Isle of Iona
Avebury
Mont St-Michel
Lourdes
Luther Trail/Wittenburg Cathedral
Mount Olympus
Jerusalem/Temple Mount
Crater Lake
Mauna Kea, Hawaii
Devil's Tower, Wyoming
Haida Gwai (SGang Gwaay/Ninstints)
Teotihuacan
Lake Titicaca
Easter Island
Additional information
Spiritual Places by Sarah Baxter
Inspired Traveller's Guides
Book picture is for illustrative purposes only, actual binding, cover or edition may vary.
This is a used book - there is no escaping the fact it has been read by someone else and it will show signs of wear and previous use. Overall we expect it to be in very good condition, but if you are not entirely satisfied please get in touch with us.