IT All Adds up By Saul Bellow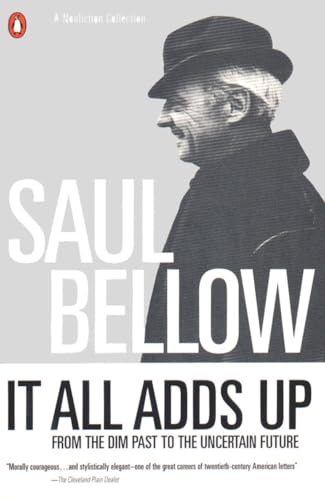 Used Price
$17.49
inc. GST
Free Shipping in Australia
A collection of work by Saul Bellow which includes articles, lectures, essays, travel pieces and an "Autobiography of Ideas".
Only 2 left
---
IT All Adds up Summary
---
IT All Adds up: From the Dim Past to the Uncertain Future by Saul Bellow
Saul Bellow's fiction, honored by a Nobel Prize and a Pulitzer, among other awards, has made him a literary giant. Now, in his first nonfiction collection, Bellow's learned and original mind shines through over four decades of reflections on literature, on the state of the artist in the "violent uproar" of contemporary life, and on life itself, "the mysteries of our common human nature." Beginning with "Mozart: An Overture, " a personal bicentennial tribute to the composer who means so much to Bellow, these carefully selected pieces, illuminated by Bellow's absolute clarity of language, range from his Nobel Prize lecture of 1976 to ruminations about his beloved city of Chicago, a city, Bellow writes, that "builds itself up, knocks itself down again, scrapes away the rubble, and starts over"; to remembrances of passing friends - John Cheever, Allan Bloom, Isaac Rosenfeld, John Berryman; to the state of the novel in our time. Along the way, he invokes Tolstoy, Dostoyevsky, Flaubert, Proust, Conrad, and other masters of the novel to bear the testament of his own life, his conviction of what the novel as a work of art can do for a society benumbed by technology. Also included in this rich collection are pastoral, provocative travel pieces on Spain, Israel, Paris, Tuscany, and other special haunts. And finally, as the chef d'oeuvre, the revealing question-and-answer piece comprising "A Half Life, " and "A Second Half Life, " which is as close as we will come to an autobiography from this contemporary master of American fiction.
Customer Reviews - IT All Adds up
---
Why buy from World of Books
IT All Adds up Reviews
---
By the Winner of the Nobel Prize in Literature
About Saul Bellow
---
Saul Bellow was born in 1915 to Russian emigre parents. As a young child in Chicago, Bellow was raised on books - the Old Testament, Shakespeare, Tolstoy and Chekhov - and learned Hebrew and Yiddish. He set his heart on becoming a writer after reading Uncle Tom's Cabin, contrary to his mother's hopes that he would become a rabbi or a concert violinist. He was educated at the University of Chicago and North-Western University, graduating in Anthropology and Sociology; he then went on to work for the Encyclopaedia Britannica. Bellow published his first novel, The Dangling Man, in 1944; this was followed, in 1947, by The Victim. In 1948 a Guggenheim Fellowship enabled Bellow to travel to Paris, where he wrote The Adventures of Augie March, published in 1953. Henderson The Rain King (1959) brought Bellow worldwide fame, and in 1964, his best-known novel, Herzog, was published and immediately lauded as a masterpiece, 'a well-nigh faultless novel' (New Yorker). Saul Bellow's dazzling career as a novelist was celebrated during his lifetime with an unprecedented array of literary prizes and awards, including the Pulitzer Prize, three National Book Awards, and the Gold Medal for the Novel. In 1976 he was awarded a Nobel Prize 'for the human understanding and subtle analysis of contemporary culture that are combined in his work'. Bellow's death in 2005 was met with tribute from writers and critics around the world, including James Wood, who praised 'the beauty of this writing, its music, its high lyricism, its firm but luxurious pleasure in language itself'.
Additional information
IT All Adds up: From the Dim Past to the Uncertain Future by Saul Bellow
Book picture is for illustrative purposes only, actual binding, cover or edition may vary.
The book has been read but remains in clean condition. All pages are intact and the cover is intact. Some minor wear to the spine.