Rejuvenating a Garden By Stephen Anderton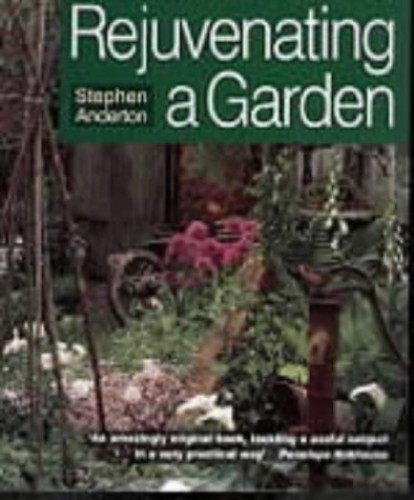 Rejuvenating a Garden
Used Price
$23.99
inc. GST
Free Shipping in Australia
This guide provides no-nonsense advice for those who wish to rejuvenate a garden. It starts by assessing the existing garden. It then helps you to identify existing plants, clear, prune and replant. Finally, it provides a pruning directory covering lawns, trees, climbers and herbaceous plants.
Only 4 left
---
Rejuvenating a Garden Summary
---
Rejuvenating a Garden by Stephen Anderton
Anyone who has ever inherited a garden knows the difficulties of coping with what is there already. When faced with such a prospect, the cry is always 'Where do I start?' This book sets out to make the prospect less daunting. Following Stephen Anderton's clear, no-nonsense advice, you start by assessing the existing garden and understanding your own needs. Then you learn you to do the job: identifying existing plants, saving important ones; clearing,pruning, installing new structures and replanting. The third section of the book is a substantial pruning directory covering lawns, trees, herbaceous plants, climbers and much more.
Why buy from World of Books
Rejuvenating a Garden Reviews
---
For anyone with a neglected or overgrown garden or simply a garden in need of a good overhaul. Looking forward to moving house? What about the garden? Is it a brand new one with builder's rubble lurking underneath the new lawn or a long-established, well-kept show garden? Or is it an overgrown mess, full of tree seedlings, weeds and hidden dangers such as plant-swamped ponds or dilapidated outbuildings? "The Times" gardening columnist Stephen Anderton is here to help. Providing down-to-earth, practical advice he looks at all these problems in perspective. Whether you are a keen gardener or a horticulturally-challenged new garden owner, his sound tips on how to assess the situation and deal with it in an orderly fashion will prove invaluable. From soil-testing, tree and shrub assessment to lawncare and hard-landscaping, all facets of a new or newly acquired garden are looked at. Which tree to cut down? What to do with that broken greenhouse? How to improve that bald patch of lawn? Every conceivable conundrum is covered making this an asset to every gardener. For beginners, the reassurance that you can cope. For the more adventurous, temperance is advised to avoid costly mistakes. An A-Z of shrubs and trees and how to deal with them at various stages of their lives is extremely useful and explanation of plant clues in neglected gardens offer hope to those who may at first despair. So think positively, take your time and read this before dashing out and trying to do too much at once. - Lucy Watson
About Stephen Anderton
---
Stephen Anderton is a freelance journalist, writer and lecturer on gardens and gardening consultant. Well known for his award-winning weekly Saturday column in The Times, he is also co-presenter of Radio 4's Growing Spaces and has frequently appeared on television. Before turning to writing, he worked as a professional gardener for 20 years, becoming National Gardens Manager for English Heritage.
Table of Contents
---
Part 1 Where to start; Part 2 Doing the job; pruning to rejuvenate - a directory.
Additional information
Rejuvenating a Garden by Stephen Anderton
Book picture is for illustrative purposes only, actual binding, cover or edition may vary.
This is a used book - there is no escaping the fact it has been read by someone else and it will show signs of wear and previous use. Overall we expect it to be in very good condition, but if you are not entirely satisfied please get in touch with us.