The Attack of the Alien Brain By Steve Hartley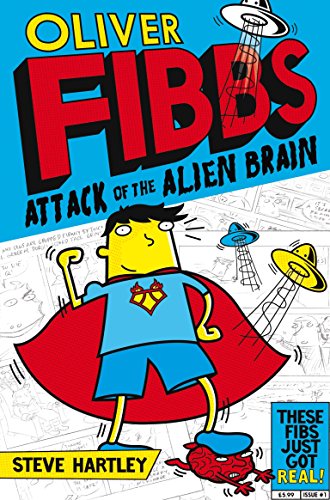 The Attack of the Alien Brain
Used Price
$11.99
inc. GST
Free Shipping in Australia
These fibs just got real! The first hilarious book in a brand-new series for boys.
Out of stock
---
The Attack of the Alien Brain Summary
---
The Attack of the Alien Brain by Steve Hartley
Hi! I'm Oliver Tibbs (some people call me 'Oliver Fibbs') and everyone in my family is super-brilliant at something - chess, ballet, brain surgery and architecture - but I'm not brilliant at anything. Show and Tell (or as I call it: Pain and Torture Time) is my worst nightmare . . . I haven't got a black belt at karate or made a mega-powerful electro-magnet. All I'm good at is reading comics and eating pizza. But I'm fed up with being Dull and Boring, so I've been telling the class about my adventures as a Defender of Planet Earth - battling against the evil Alien Brain Drain who wants to take over the world! Everyone loved it except Miss Wilkins, who gave me a detention for telling fibs. Now my parents think I'm Going Bad. I keep telling them - THEY'RE NOT FIBS, THEY'RE STORIES!
Customer Reviews - The Attack of the Alien Brain
---
Why buy from World of Books
The Attack of the Alien Brain Reviews
---
The best thing about reading is sometimes the good stories and sometimes the information you can find out. My favourite book is Oliver Fibbs by Steve Hartley, he tells a lot of lies so it makes it interesting. News & Star (West Cumbria) Hooray for this marvellous champion of the dull and boring! The School Librarian Although it is aimed at her age range - 7 - she did ask for help with some of the words, which is another good sign, as I like her books to challenge her while also keeping her interested enough to keep wanting to read on, rather than just giving up. Talk About Cheesecake One evening when we were reading Oliver Fibbs: The Attack of the Alien Brain he read to within a few chapters of the end by lights out time. He'd got a page or so to go to finish the chapter so I said he could read those before turning his lights out. Twenty minutes later he emerged from his room to fess up to having read to the end because he'd got into the book and wanted to know how it ended. If that isn't an endorsement of a book I don't know what is. 92three30.com
About Steve Hartley
---
Steve Hartley is a sensible man. He has a sensible job, a sensible family, lives in a sensible house and drives a sensible car. But underneath it all, he longs to be silly. There have been occasional forays into silliness: Steve has been a football mascot called Desmond Dragon and has tasted World Record success himself - in both a mass yodel and a mass yo-yo! But he wanted more, and so his alter ego Danny Baker Record Breaker was created. Steve lives in Lancashire with his wife and daughter.
Additional information
The Attack of the Alien Brain by Steve Hartley
Book picture is for illustrative purposes only, actual binding, cover or edition may vary.
This is a used book - there is no escaping the fact it has been read by someone else and it will show signs of wear and previous use. Overall we expect it to be in very good condition, but if you are not entirely satisfied please get in touch with us.