People of the Book By Zachary Karabell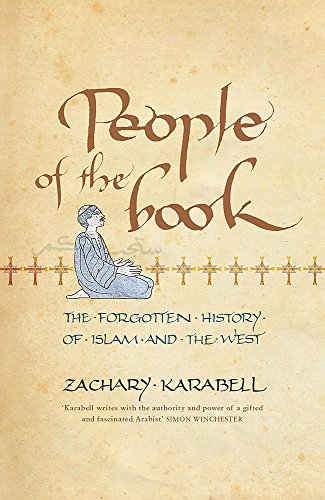 People of the Book
by Zachary Karabell
A fascinating and surprising history, revealing the peaceful tradition that has existed between Islam and the West
Only 0 left
---
People of the Book Summary
---
People of the Book by Zachary Karabell
We live in a world polarized by the ongoing conflict between Muslims, Christians and Jews, but -- in an extraordinary narrative spanning fourteen centuries -- Zachary Karabell argues that the relationship between Islam and the West has never been simply one of animosity and competition, but has also comprised long periods of cooperation and coexistence. Through a rich tapestry of stories and a compelling cast of characters, People of the Book uncovers known history, and forgotten history, as Karabell takes the reader on an extraordinary journey through the Arab and Ottoman empires, the Crusades and the Catholic Reconquista and into the modern era, as he examines the vibrant examples of discord and concord that have existed between these monotheistic faiths. By historical standards, today's fissure between Islam and the West is not exceptional, but because of weapons of mass destruction, that fissure has the potential to undo us more than ever before. This is reason enough to look back and remember that Christians, Jews and Muslims have lived constructively with one another. They have fought and taught each other, and they have learned from one another. Retrieving this forgotten history is a vital ingredient to a more stable, secure world.
Why buy from World of Books
People of the Book Reviews
---
'This is an intelligent and continuously interesting book' -- Allan Massie, Daily Telegraph 'Excellent ! in its considered and balanced way, this book is an impassioned plea not to leave the field to the demagogues who believe in a showdown of warring cultures' -- Waterstone's Books Quarterly 'This might not be as glamorous as Moorish Spain or Ottoman Turkey, nor as dramatic as a world riven by sectarian hatred, but it's a sight more likely than the first, and infinitely preferable to the second' -- Independent on Sunday 'This appealing book finds many more moments in history to counter the times of violence and war' -- Sunday Business Post '(A) sensitive, informative book' -- Sameer Rahim, Daily Telegraph 'A stimulating book with burning contemporary relevance' -- Siobhan Murphy, Metro (London) 'Historian Zachary Karabell is concerned to show that, despite signs to the contrary, relations between Muslims, Christians and Jews can be good' -- Jewish Chronicle Praise for the US edition of People of the Book: 'The clash between Muslims, Christians, and Jews dominates the news these days, but as Zachary Karabell highlights, there is more to the relationship between these three faiths than violence. In a book that sweeps the reader across fourteen centuries from the birth of Islam to present-day Dubai, he tells the forgotten stories of coexistence and cooperation. Peace Be upon You reminds us of the possibility of a better future' -- Newsweek International 'In this season of crisis, Zachary Karabell has written an important book about an often overlooked issue -- relations between Arabs, Christians and Jews since ancient times. This vivid, fast-moving book should interest everyone who is concerned with the Middle East. Filled with extraordinary stories of cooperation and conflict, it illuminates, and could help guide us through the present crisis' -- Ambassador Richard Holbrooke 'Perhaps if such a historical perspective was more widespread today, the world would be more peaceful and fruitful' -- Terry Sutton, Lloyds List 'Even in the midst of war, history can open our eyes to the possibilities of peaceful coexistence. Peace Be upon You offers a lucid, comprehensive, and elegant account of Muslim-Jewish-Christian relations that reminds us of the good without shielding us from the bad. Free of cant or apology, it is indispensable reading for anyone who wants to get at the truth about the Middle East in a world of angry distortions' -- Noah Feldman, author of DIVIDED BY GOD and WHAT WE OWE IRAQ 'At a time when the world craves peace among the religions, Zachary Karabell has provided a timely and moving roadmap of hope. Peace Be upon You is exactly what we most need right now: a reminder that coexistence has a history--and a future. Anyone who wonders whether the religions can get along must read this fascinating, revelatory book' -- Bruce Feiler, author of Walking the Bible and Where God Was Born Praise for Parting the Desert: 'They did indeed part the desert, and their story cannot be told better than by this fine book' -- Andrew Roberts, Sunday Telegraph 'Engrossing ... as accessible and vividly written as a novel ... Superbly researched, it is a volume to keep' -- Martin Booth, Sunday Times 'Karabell writes with the authority and power of a gifted and fascinated Arabist ... This entirely splendid book now stands to remind us of [de Lessep's] remarkable vision and all that he created in consequence' -- Simon Winchester 'An exceptional book, one of the best of its kind I have read' -- Glasgow Herald
About Zachary Karabell
---
Zachary Karabell studied History at Columbia and has a further degree in Modern Middle East Studies from Oxford and a doctorate from Harvard. He has written widely on religion and human rights, American politics, foreign policy and international affairs.
Additional information
People of the Book by Zachary Karabell
Hodder & Stoughton General Division
Book picture is for illustrative purposes only, actual binding, cover or edition may vary.
This is a used book - there is no escaping the fact it has been read by someone else and it will show signs of wear and previous use. Overall we expect it to be in very good condition, but if you are not entirely satisfied please get in touch with us.