A History of the English-Speaking Peoples since 1900 By Andrew Roberts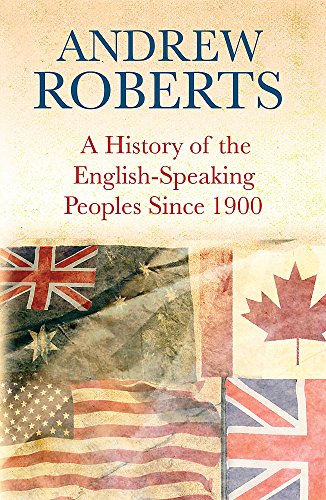 A History of the English-Speaking Peoples since 1900
by Andrew Roberts
Prize-winning British historian tells the story of the English-speaking peoples in the 20th century
Only 2 left
---
A History of the English-Speaking Peoples since 1900 Summary
---
A History of the English-Speaking Peoples since 1900 by Andrew Roberts
Winston Churchill's History of the English-Speaking Peoples, in four volumes, ended in 1900. Andrew Roberts, Wolfson History prizewinner and superb narrative historian, has been inspired by Churchill's example to write the story of the 20th century. In his preface Churchill wrote: 'Every nation or group of nations has its own tale to tell. Knowledge of the trials and struggles is necessary to all who would comprehend the problems, perils, challenges, and opportunities which confront us today ...It is in the hope that contemplation of the trials and tribulations of our forefathers may not only fortify the English-speaking peoples of today, but also play some small part in uniting the whole world, that I present this account.' As the greatest of all the trials and tribulations of the English-speaking peoples took place in the twentieth century, Roberts' book covers the four world-historical struggles in which the English-speaking peoples have been engaged - the wars against German Nationalism, Axis Fascism, Soviet Communism and now the War against Terror. But just as Churchill did in his four volumes, Roberts also deals with the cultural, social and political history of the English global diaspora - comprising the United States, the United Kingdom, Canada, Australia, South Africa, New Zealand and the West Indies. Keeping to Churchill's definition it does not cover India, where there are 180 languages of which English is only that of the elite. But India's story overlaps with that of Britain and is fully dealt with in that context.
Why buy from World of Books
A History of the English-Speaking Peoples since 1900 Reviews
---
'a brilliant revisionist history of the English-speaking peoples which deserves to beput into the hands of every teenager.' -- Michael Burleigh LITERARY REVIEW 'Now Andrew Roberts the celebrated biographer of Lord Halifax and Salisbury, takes the story to the present day in his own epic.' -- Brendan Simms EVENING STANDARD 'Magnificently provoking. ... A worthy successor to Churchill's history of the same subject. ... This is not a book for those who like their history written in various shades of apologetic grey. This is history written with the author's heart on his sleeve. This is a work of astonishing range and depth, combining as it does a polemical flair with sure-footed scholarship.' -- Hywel Williams NEW STATESMAN 'This book takes no prisoners. It is a bold, uncompromising trumpet blast in celebration of the political, economic and cultural achievements of the English-Speaking Peoples in the 20th century and until the present day. ... Roberts is never without a trenchant opinion or a scathing denunciation of humbug. In robust prose and armed with immense learning, he is always readable and never loses sight of his overarching theme.' -- Christopher Silvester DAILY EXPRESS 'This book makes exhilarating reading if you believe all has been and remains right with the world as long as the English-speaking peoples are in charge.' -- Peter Lewis THE DAILY MAIL 'he has interesting and perceptive things to say about the more exotic aspects of the Anglo-Saxon diaspora.' -- Richard Overy THE SUNDAY TELEGRAPH 'In Roberts, the Anglo-American-Australian-Canadian-Kiwi Special Relationship has found an advocate of Churchillian eloquence.' -- Niall Ferguson THE MAIL ON SUNDAY 'full of detail, enriched by pen-portraits, opinionated and provocative.' -- Allan Massie THE DAILY TELEGRAPH 'To continue the great work of Winston Churchill is a mighty challenge but Andrew Roberts carries it off brilliantly.' -- Tim Newark MILITARY ILLUSTRATED 'it is beautifully written and well be widely read.' -- Vernon Bagdanor THE FINANCIAL TIMES 'I read this book with much pleasure and instruction. To resume reading so large a tome with anticipation of enjoyment is testimony to the skill of the author; and, when all is said and done, the achievement of the Engish-speaking peoples is great.' -- Anthony Daniels THE SPECTATOR 'Andrew Roberts has written an extraordinarily wide-ranging, stimulating and necessary book.' -- Denis Judd HISTORY TODAY 'a compelling - and distinctively British - guide to the story of the English-speaking peoples.' -- Richard Aldous THE IRISH TIMES
About Andrew Roberts
---
Andrew Roberts took a first in Modern History at Cambridge. He has been a professional historian since the publication of his life of Lord Halifax , The Holy Fox, in 1991. He lives in Knightsbridge, London, and has two children. His life of Lord Salisbury won the Wolfson History Prize in 2000.
Additional information
A History of the English-Speaking Peoples since 1900 by Andrew Roberts
Book picture is for illustrative purposes only, actual binding, cover or edition may vary.
This is a used book - there is no escaping the fact it has been read by someone else and it will show signs of wear and previous use. Overall we expect it to be in very good condition, but if you are not entirely satisfied please get in touch with us.