The Renegades Of Pern By Anne McCaffrey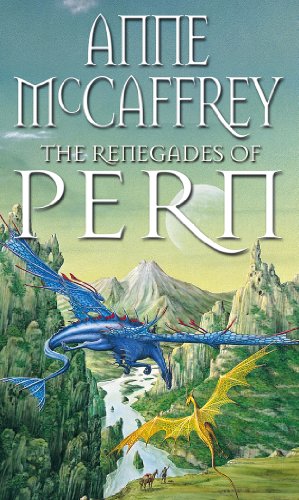 The Renegades Of Pern Summary
---
The Renegades Of Pern by Anne McCaffrey
They were misfits, the outcasts, the murderers without Hold or Crafthall. Some were resentful, some sought vengeance, but it was not until Thella, Lady Holder of Telgar, began to weld them together into a terrifying and brilliantly evil clan that they became the Renegades of Pern. it was a time of great turmoil on the planet. The pass of the Red Star had brought a new terrible reign of Threadfall, and in the southern Hold, Toric was carving out an enormous empire for himself from lands as yet uncharted. And as the times of trouble grew, so did the ravages of Thella and her band, turning from theft to murder to vicious and insane revenge. Jayge Lilcamp, the young and roving trader, was one of the first to fall foul of the renegades, and as he saw what Thella had done to his family and his wagon train he began to seek his own revenge, a revenge which grew into a determination to destroy the most evil woman on Pern.
Why buy from World of Books
About Anne McCaffrey
---
Anne McCaffrey was born in Cambridge, Massachusetts. She graduated cum laude from Radcliffe College, majoring in Slavonic Languages and Literatures. A prolific bestselling author, she is best known for her handling of broad themes and the worlds of her imagination, particularly in her tales of the Talents and the novels about the Dragonriders of Pern. Anne McCaffrey lives in a house of her own design, Dragonhold-Underhill, in County Wicklow, Ireland. Visit the author's website at www.annemccaffrey.net
Additional information
The Renegades Of Pern by Anne McCaffrey
Transworld Publishers Ltd
Book picture is for illustrative purposes only, actual binding, cover or edition may vary.
This is a used book - there is no escaping the fact it has been read by someone else and it will show signs of wear and previous use. Overall we expect it to be in very good condition, but if you are not entirely satisfied please get in touch with us.