First Repertoire for Violin By Arranged by (music) Mary Cohen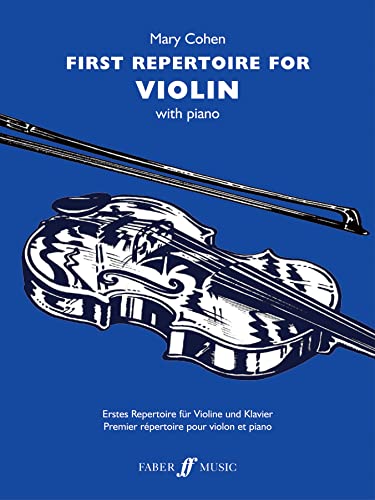 First Repertoire for Violin
by Arranged by (music) Mary Cohen
N/A
Only 4 left
---
First Repertoire for Violin Summary
---
First Repertoire for Violin by Arranged by (music) Mary Cohen
First Repertoire for Violin is a collection of 15 imaginative and idiomatic arrangements and original pieces, all carefully selected and written for the Grade 2-4 violinist. From Handel to Elgar, The Pink Panther and Puttin' on the Ritz to polkas, barn dances and tangos - there is something here for every occasion!

**ABRSM selected pieces (Violin 2012-2015):
Rondo (from Introduction and Rondo) (C.Dancla)
Andante from Sonatina in Bb Op.48 No.4 (Pleyel)
Why buy from World of Books
First Repertoire for Violin Reviews
---
Aimed at players between the grades of 2 to 4, there is much to tempt pupils stylistically, whilst gradually improving their technical security. Fingering has been left to individual choice, but bowings and dynamic suggestions have been included. As one has come to expect from this series by Faber Music, the copies are clearly printed, robust, and awkward page turns have been carefully eliminated from the violin part. This would be a useful addition not only for teaching purposes, and pupils' converts, but also as sight-reading material for more advanced performers.
European String Teachers Association, Spring 2007
Aimed at players from Grades 2 to 4, this book often a good and varied selection of pieces. Some are original, like the Andantino from Elgar's Six Easy Pieces Op 22 and others are workable and pleasing arrangements ranging from Bach and Handel to Irving Berlin, and ending with Mancini's Pink Panther. A wide range of techniques is covered and all the pieces, (including two clever ones by the author) are eminently performable.
Music Teacher Magazine, May 2007
Table of Contents
---
Gavottes I and II from 'Suite in D' (J S Bach); Bouree from Flute Sonata No.3 (Handel); Searching for Lambs (Sharp); Andantino from 'Six Easy Pieces' (Elgar); Lean, Mean Tango (Cohen); Menuets I and II from 'Music from the Royal Fireworks' (Handel); Allegro from 'Serenade No.1' (Mozart); Polka and Introduction & Rondo from 'Little School of Melody' (Dancla) **ABRSM selected piece: Violin syllabus 2012-2015; Impromptu (Gurlitt); Puttin' on the Ritz (Berlin); Night Flight (Cohen); Andante from 'Sonatina No.4' (Pleyel) **ABRSM selected piece: Violin syllabus 2012-2015; Barn Dance (Gurlitt); The Pink Panther (Mancini)
Additional information
First Repertoire for Violin by Arranged by (music) Mary Cohen
Arranged by (music) Mary Cohen
Book picture is for illustrative purposes only, actual binding, cover or edition may vary.
This is a used book - there is no escaping the fact it has been read by someone else and it will show signs of wear and previous use. Overall we expect it to be in very good condition, but if you are not entirely satisfied please get in touch with us.