Losing Matt Shepard By Beth Loffreda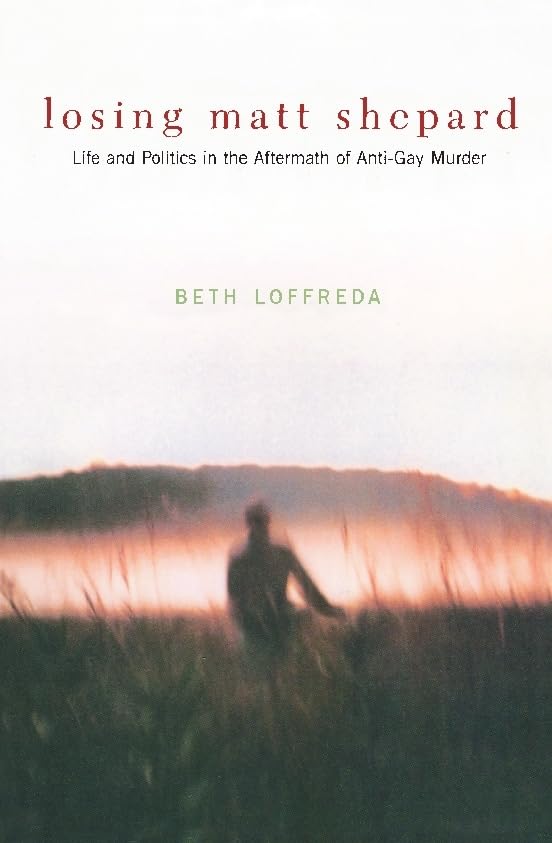 Losing Matt Shepard
by Beth Loffreda
The first book to look beyond the brutal events toward the broad implications of Matt Shepard's story. Loffreda shows how the politics of sexuality unfolds in a remote and sparsely populated area of the country.
Only 1 left
---
Losing Matt Shepard Summary
---
Losing Matt Shepard: Life and Politics in the Aftermath of Anti-Gay Murder by Beth Loffreda
The infamous murder in October 1998 of a twenty-one-year-old gay University of Wyoming student ignited a media frenzy. The crime resonated deeply with America's bitter history of violence against minorities, and something about Matt Shepard himself struck a chord with people across the nation. Although the details of the tragedy are familiar to most people, the complex and ever-shifting context of the killing is not. Losing Matt Shepard explores why the murder still haunts us-and why it should. Beth Loffreda is uniquely qualified to write this account. As a professor new to the state and a straight faculty advisor to the campus Lesbian Gay Bisexual Transgender Association, she is both an insider and outsider to the events. She draws upon her own penetrating observations as well as dozens of interviews with students, townspeople, police officers, journalists, state politicians, activists, and gay and lesbian residents to make visible the knot of forces tied together by the fate of this young man. This book shows how the politics of sexuality-perhaps now the most divisive issue in America's culture wars-unfolds in a remote and sparsely populated area of the country. Loffreda brilliantly captures daily life since October 1998 in Laramie, Wyoming-a community in a rural, poor, conservative, and breathtakingly beautiful state without a single gay bar or bookstore. Rather than focus only on Matt Shepard, she presents a full range of characters, including a panoply of locals (both gay and straight), the national gay activists who quickly descended on Laramie, the indefatigable homicide investigators, the often unreflective journalists of the national media, and even a cameo appearance by Peter, Paul, and Mary. Loffreda courses through a wide ambit of events: from the attempts by students and townspeople to rise above the anti-gay theatrics of defrocked minister Fred Phelps to the spontaneous, grassroots support for Matt at the university's homecoming parade, from the emotionally charged town council discussions about bias crimes legislation to the tireless efforts of the investigators to trace that grim night's trail of evidence. Charting these and many other events, Losing Matt Shepard not only recounts the typical responses to Matt's death but also the surprising stories of those whose lives were transformed but ignored in the media frenzy.
Why buy from World of Books
Losing Matt Shepard Reviews
---
As the author examines the cultural repercussions of Shepard's death, she also provides an objective history of hate crimes and the efforts at legislation, taking both extreme conservatives and extreme liberals to task along the way. School Library Journal This well-written account gets beyond the area's demographics and typical responses to the crime to uncover uncomfortable complexities and contradictions that belie our assumptions about this episode... A good cross-over book for understanding the complexity of peoples'struggle for (and opposition to) gay rights. Library Journal (starred review) Loffreda has crafted a richly layered narrative that encompasses both the deed and the community where it occurred... Losing Matt Shepard is a powerful meditation on the distortions inherent in the ways we comprehend the world. -- David L. Kirp The Nation A brilliant book full of cool reason and flashing insight. The Boston Globe Anyone who wishes to really know anything about the present state of queer politics in the U.S. must run-- not walk... to purchase a copy of Beth Loffreda's phenomenal book... A stunning blueprint for rethinking queer politics more generally. It is a book in which the poetic language begs readers to savor every syllable. It is a book that skillfully reels readers in and rewards them with profoundly astute analysis and nuanced political engagement with a subject that has affected so many of us. Read this book for its grace, for its politics, for its promise. -- Mary Jane Knopf Newman, Assistant Professor of English at Boise State University The Lesbian Review of Books Getting behind the headlines, preconceptions and easy stereotypes, Loffreda has produced a book that mixes intelligence and compassion with crack reporting and sharp insight. Publishers Weekly (starred review) Loffreda crafts a rich and textured insider's account... [and] skillfully uses interviews, media reports, and firsthand accounts that she carefully mediates through the lenses of culture, politics, and religion to move beyond a simple factual retelling of a gay murder to a more complex understanding of what it means to exist and survive as a lesbian, gay, bisexual, or transgender person. -- Kristopher Wells Adult Education Quarterly
About Beth Loffreda
---
Beth Loffreda is assistant professor of English and adjunct professor of women's studies at the University of Wyoming in Laramie.
Table of Contents
---
Preface Author's Note Chapter One Chapter Two Chapter Three Chapter Four Chapter Five Chapter Six A Note on Sources Acknowledgments
Additional information
Losing Matt Shepard: Life and Politics in the Aftermath of Anti-Gay Murder by Beth Loffreda
Columbia University Press
Book picture is for illustrative purposes only, actual binding, cover or edition may vary.
This is a used book - there is no escaping the fact it has been read by someone else and it will show signs of wear and previous use. Overall we expect it to be in very good condition, but if you are not entirely satisfied please get in touch with us.