Essential Dental Public Health By Blanaid Daly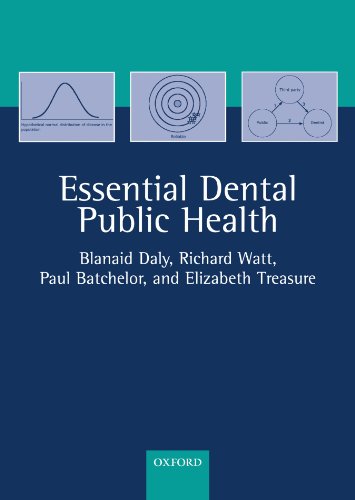 Essential Dental Public Health
by Blanaid Daly
Relates dental public health to clinical practice, enabling students to understand the community in which they work and general dental practitioners to see the relevance of the subject to everyday experiences. This book includes summaries of the points made with 'take home' messages to apply to practice.
Only 1 left
---
Essential Dental Public Health Summary
---
Essential Dental Public Health by Blanaid Daly
Dental public health is essential to the practice of dentistry as it puts dentistry in context within society and seeks to answer questions at a population level. This introductory book aims to stimulate the reader's interest and encourage a questioning approach to dental public health issues and their relationship to clinical practice. Divided into four sections, the book covers the philosophy and basis of the subject, the epidemiology of oral diseases, oral health promotion and oral health services. Essential Dental Public Health serves as a practical and relevant overview of the subject. It includes summaries of the points made with 'take home' messages to apply to practice. Where appropriate, problems are included so that the student may learn by problem solving. Further reading lists are provided allowing information in related subjects that are beyond the scope of this book. The reader will gain an understanding of the principles of dental public health sufficient for an undergraduate dental student. The book provides material to fulfil their requirements but also provides and excellent introduction for anyone looking for more detailed knowledge.
Why buy from World of Books
Essential Dental Public Health Reviews
---
This book is a valuable addition to the bookshelf for anyone interested in dentistry beyond what happens directly between dentist and patient... A concise summary of dental public health is never an easy thing to produce and the authors are to be congratulated for a well-constructed and readable book. Dental Update Essential Dental Public Health sets out to introduce dental students to the discipline. It is a cracking little book and will be invaluable not only for undergraduates but also for professions complimentary to dentistry learning about dental public health. It will also be an excellent primer for Masters students in the discipline who need to gain an overview before they embark on more detailed reading... This book invaluably fills a niche in the library. It will become a standard text for Dental Public Health in dental schools and would also be a very useful read for anybody with an interest in the discipline. Open Wide
Table of Contents
---
PART I: PRINCIPLES OF DENTAL PUBLIC HEALTH; 1. Introduction to the principles of public health; 2. Determinants of health; 3. Definitions of health; 4. Public health approaches to prevention; PART II: EPIDEMIOLOGY; 5. Overview of epidemiology; 6. Trends in oral health; 7. Evidence based dentistry; 8. Critical appraisal of literature; PART III: PREVENTION AND ORAL HEALTH PROMOTION; 9. Principles of oral health promotion; 10. Overview of behaviour change; 11. Oral health education in dental practice settings; 12. Sugars and caries prevention; 13. Fluoride and fissure prevention; 14. Prevention of periodontal diseases; 15. Oral cancer prevention; 16. Public health approaches to the prevention of traumatic dental injuries; PART IV: HEALTH SERVICES; 17. Overview of healthcare systems; 18. The structure of the NHS in the UK; 19. The structure of dental services in the UK; 20. The European Union and dentistry; 21. Planning dental services; 22. Health economics; 23. Problems with health services; 24. Dental organisations
Additional information
Essential Dental Public Health by Blanaid Daly
Book picture is for illustrative purposes only, actual binding, cover or edition may vary.
This is a used book - there is no escaping the fact it has been read by someone else and it will show signs of wear and previous use. Overall we expect it to be in very good condition, but if you are not entirely satisfied please get in touch with us.