Time and Power By Christopher Clark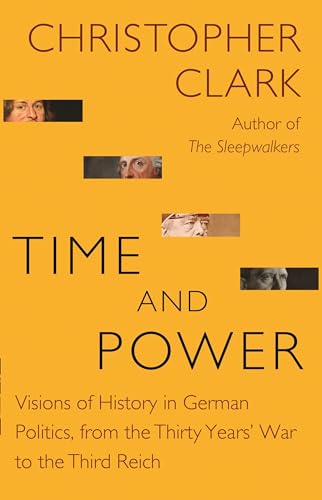 Time and Power
New Price
£24.99
Free Shipping in the UK
N/A
Only 2 left
---
Time and Power Summary
---
Time and Power: Visions of History in German Politics, from the Thirty Years' War to the Third Reich by Christopher Clark
From the author of the national bestseller The Sleepwalkers, a book about how the exercise of power is shaped by different concepts of time
This groundbreaking book presents new perspectives on how the exercise of power is shaped by different notions of time. Acclaimed historian Christopher Clark draws on four key figures from German history-Friedrich Wilhelm of Brandenburg-Prussia, Frederick the Great, Otto von Bismarck, and Adolf Hitler-to look at history through a temporal lens and ask how historical actors and their regimes embody unique conceptions of time.
Inspired by the insights of Reinhart Koselleck and Francois Hartog, two pioneers of the "temporal turn" in historiography, Clark shows how Friedrich Wilhelm rejected the notion of continuity with the past, believing instead that a sovereign must liberate the state from the entanglements of tradition to choose freely among different possible futures. He demonstrates how Frederick the Great abandoned this paradigm for a neoclassical vision of history in which sovereign and state transcend time altogether, and how Bismarck believed that the statesman's duty was to preserve the timeless permanence of the state amid the torrent of historical change. Clark describes how Hitler did not seek to revolutionize history like Stalin and Mussolini, but instead sought to evade history altogether, emphasizing timeless racial archetypes and a prophetically foretold future.
Elegantly written and boldly innovative, Time and Power takes readers from the Thirty Years' War to the fall of the Third Reich, revealing the connection between political power and the distinct temporalities of the leaders who wield it.
Why buy from World of Books
Time and Power Reviews
---
"Clark's book, with its provocative and useful theoretical command of the concepts of time and history and its mastery of the details of German history over four centuries, is an erudite, challenging, and thought-provoking work."---Michael Curtis, American Thinker
"One of Times Higher Education's Best Books of 2018"
"A stimulating and entertaining book."---Tim Blanning, Literary Review
"An original and rewarding approach to modern German history."---Tony Barber, Financial Times, Summer Books of 2019
"Whatever it lacks in grace, it amply makes up for in intellectual vigour." * New Statesman *
"To read this book is to be constantly stimulated to think new thoughts and to be exhilarated by the grandeur and subtlety of Clark's argument."---Lucy Hughes-Hallett, New Statesman
"[A] stirring read that gathers momentum with every chapter."---Oliver Moody, The Times
"Time and Power . . . [shows] that, in history, periods orienting towards the future have always been succeeded by periods focusing on the past."---Jilt Jorritsma, Nexus Review
"One of the Financial Times' Summer Books of 2019: History"
"[Clark's] breadth of knowledge is impressive and his conclusions are carefully considered."---Hester Vaizey, Times Higher Education
"[An] impressive book . . . . [Clark] deserves praise for presenting familiar fields of German history from unusual and always rewarding angles."---Tony Barber, Financial Times
"[Time and Power] looks at history with a particular emphasis on the concept of time and should therefore offer a new and thought-provoking way to examine the past."---Hester Vaizey, Times Higher Education
"There is much to be learned from these erudite studies of 'the warping of temporality by power.'"---Daniel Johnson, Standpoint
About Christopher Clark
---
Christopher Clark is the Regius Professor of History at the University of Cambridge. He is the author of The Sleepwalkers: How Europe Went to War in 1914, Kaiser Wilhelm II: A Life in Power, and Iron Kingdom: The Rise and Downfall of Prussia, 1600-1947. He lives in Cambridge, England.
Additional information
Time and Power: Visions of History in German Politics, from the Thirty Years' War to the Third Reich by Christopher Clark
Princeton University Press
Book picture is for illustrative purposes only, actual binding, cover or edition may vary.
This is a new book - be the first to read this copy. With untouched pages and a perfect binding, your brand new copy is ready to be opened for the first time.