Once Upon a River By Diane Setterfield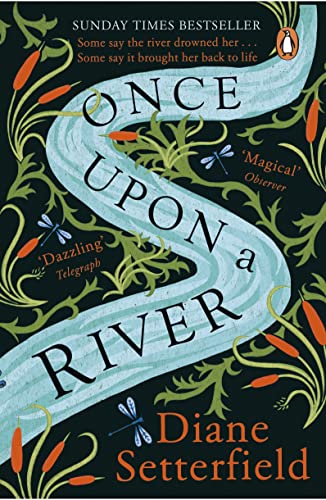 Once Upon a River
Used Price
£4.49
New RRP £8.99
Free Shipping in the UK
N/A
118 in stock
---
Once Upon a River Summary
---
Once Upon a River: The Sunday Times bestseller by Diane Setterfield
'I was completely spellbound' - RUTH HOGAN
'An absolute feast of a book, which will keep you engrossed' RED magazine
Some say the river drowned her...Some say it brought her back to life
On a dark midwinter's night in an ancient inn on the Thames, the regulars are entertaining themselves by telling stories when the door bursts open and in steps an injured stranger. In his arms is the drowned corpse of a child.
Hours later, the dead girl stirs, takes a breath and returns to life.
Is it a miracle?
Is it magic?
And who does the little girl belong to?
An exquisitely crafted historical mystery brimming with folklore, suspense and romance, as well as with the urgent scientific curiosity of the Victorian age.
____________________
What readers are saying:
***** 'Pure escapism, a beautifully written story.'
***** '[An] intriguing and captivating tale which is utterly entrancing and deserves to be savoured.'
***** '[A] haunting and compelling story of hope and the power of myths and legends. I adored it.'
***** 'It felt as comforting as the fantastical stories you read as a child yet with a darker edge.'
***** 'I was entranced from the beginning to the end.'
Why buy from World of Books
Once Upon a River Reviews
---
A story, no matter how cleverly it is structured, lives or dies on the vividness of its characters. Setterfield, a true storyteller, makes us care about all her players in this beguiling novel. * The Times *
Exploring themes of storytelling, parenthood, science and society on the cusp of change, this is a richly evocative novel. * Observer *
Diane Setterfield's debut novel, The Thirteenth Tale, came out in 2006 to wide acclaim. She made her mark by delivering her own take on the classic romantic mystery novel, infused with the spirit of Jane Eyre, Rebecca and The Woman in White. Once Upon a River continues to demonstrate her mastery of the Gothic genre in a way that will appeal to modern readers...Setterfield knows how to make the words sing. It is worth taking a journey down the Thames with her. * Independent *
Once Upon a River is magical, in every which way...it's the power of her storytelling that allows readers to suspend disbelief, and draws them through each tangled, dazzling chapter...This riverine novel has the mood and feel of a ghost story told late into the night, and will win over readers who enjoy a touch of age-old enchantment. * Financial Times *
I was completely spellbound by this book. Numerous strands of the same story are skilfully woven into a magical web from which I, as a reader, had no desire to escape. Setterfield's prose is beautiful, dark and eerily atmospheric, and her rich cast of characters convincingly illustrate the best and worst of humanity. Utterly brilliant! -- Ruth Hogan,bestselling author of The Keeper of Lost Things
Once Upon a River is one of the most pleasurable and satisfying new books I've read in a long time. Setterfield is a master storyteller, her language flowing with a dark magic very like the river at the heart of her tale: swift and entrancing, profound and beautiful. Give yourself a treat and read it! -- Madeline Miller,Orange Prize-winning author of The Song of Achilles and Circe
I so didn't want to leave the world of Once Upon a River but now I have and I'm bereft of the company of country folk and river spirits. This charming story about stories and the mystery of life & death captured my heart. A truly extraordinary book. -- Dinah Jefferies
Her characters are so vivid, one feels as though one has met them, spent an evening in their company, telling stories around the hearth...Setterfield is a master storyteller herself, giving us all the depth and plot and richness of the great narrative novelists. This is dazzling, alive, all-consumer writing: one reads each page greedily, the beautiful sentences shining like jewels under the pulling current of the tale itself. * Daily Telegraph *
A satisfying, thickly characterised tale that plunges you into an evocatively realised historical setting. You care for its characters. * Sunday Times *
A finely drawn cast and bravura storytellling. * Mail on Sunday *
About Diane Setterfield
---
Diane Setterfield's bestselling novel, The Thirteenth Tale was published in 38 countries, sold more than three million copies, and was made into a television drama scripted by Christopher Hampton, starring Olivia Colmanand Vanessa Redgrave. Her other novels are Bellman & Black and Once Upon a River, winner of the 2019 HWA Gold Crown Award. Born in rural Berkshire, she now lives near Oxford, by the Thames.
Additional information
Once Upon a River: The Sunday Times bestseller by Diane Setterfield
Transworld Publishers Ltd
Book picture is for illustrative purposes only, actual binding, cover or edition may vary.
This is a used book - there is no escaping the fact it has been read by someone else and it will show signs of wear and previous use. Overall we expect it to be in very good condition, but if you are not entirely satisfied please get in touch with us.