Social Security Law in Context By Edited by Neville S. Harris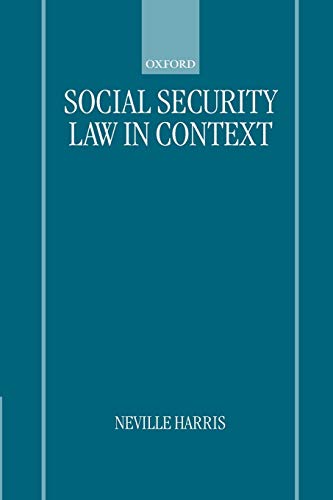 Social Security Law in Context
by Edited by Neville S. Harris
This work provides a critical account of the key areas of the law governing entitlement to social security benefits in Great Britain. One of the novel features of the book is the way the discussion is organized around themes such as unemployment, gender and the family, and old age. It covers recent legislative and case developments.
Only 1 left
---
Social Security Law in Context Summary
---
Social Security Law in Context by Edited by Neville S. Harris
The social security system of Great Britain has reached a crossroads, following the election of a Labour Government promising a 'New Age' of welfare and seemingly prepared to 'think the unthinkable' on welfare reform, at a time when public expenditure on welfare benefits has reached nearly GBP100 billion per annum. In 1985 the Conservative's Green Paper on social security reform announced that the benefits system had 'lost its way'. Attempts were made to curb benefits expenditure and reduce welfare dependency, for example through better 'targeting' of needs, the reinforcement of personal and family responsibility, and tighter administrative controls. The ten years from 1988 to 1998 saw the introduction of many new benefit schemes including income support, family credit, the social fund, disability living allowance, incapacity benefit, and jobseeker's allowance as well as the increasing influence of European Law. Yet the system 'achieves too little' according to the new Government's Green Paper on welfare reform, which promises ' a new contract between the citizen and the Government, based on responsibilities and rights'. The precise form these responsibilities and rights will take remains unknown, although we already have schemes like the New Deal and proposals for stakeholder pensions. Meanwhile, social security law continues to impact upon the lives of millions of citizens. After ten years of major legislative change, and with the prospect of a new direction, this is a time to take stock and to analyse the social and legal impact of the past decade's legislation, case law, and policy, as well as considering possible reforms. The book's approach is to organise this task thematically, particularly with regard to the social context to social security, through discrete chapters on, for example, gender and the family, disability, housing, old age, and unemployment. It is also opportune to examine the theoretical framework of state welfare and social security, particularly in the context of social rights. The book aims to provide an authoritative, contextual and critical account of how British social security law has evolved, how it operates, its substance, and its social effects.
Why buy from World of Books
Social Security Law in Context Reviews
---
... authoritative and well written. The style and content of this book should make it accessible to a broad audience. * Adviser 87, Sept/Oct 2001 *
this is a well-written and impressively researched book ... a stimulating and excellent resource for those teaching, studying and writing in this area. * Journal of Social Welfare and Family Law 23 (2) 2001 *
This is a timely and very enjoyable book ... it is quite simply excellent ... the careful technical discussion in this book offers foundation for that future development of the norms of welfare law ... this book id timely, important and genuinely interesting. * Alastair Hudson, Public Law. *
About Edited by Neville S. Harris
---
Neville Harris is Professor of Law at the School of Law and Applied Social Sciences, Liverpool John Moores University. He was previously Reader in Law and Associate Dean (Research) at the University of Liverpool. He is joint General Editor (and founding editor) of the Journal of Social Security Law.
Table of Contents
---
The Welfare State, Social Security and Social Citizenship Rights ; Social Security and Society ; The Evolving Social Security System Prior to Beveridge ; The Beveridge Report, its Implementation and the Growth of Means-Testing ; Widening Agendas: the Social Security Reviews and Reforms of 1985-88 ; The Modern Shape and Character of Social Security Provision ; Social Security Decision-Making and Appeals: Chequered History, Uncertain Future? ; Social Security: the European Dimension ; The Family, Gender and Social Security ; Social Security and Unemployment ; Social Security and Education ; Social Security and Housing ; Social Security and Disability ; Industrial Injuries ; Social Security, Money Management and Debt
Additional information
Social Security Law in Context by Edited by Neville S. Harris
Edited by Neville S. Harris
Book picture is for illustrative purposes only, actual binding, cover or edition may vary.
This is a used book - there is no escaping the fact it has been read by someone else and it will show signs of wear and previous use. Overall we expect it to be in very good condition, but if you are not entirely satisfied please get in touch with us.