The PDMA ToolBook 1 for New Product Development By Edited by Paul Belliveau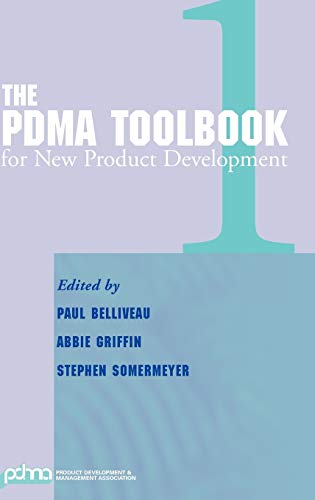 The PDMA ToolBook 1 for New Product Development
by Edited by Paul Belliveau
This book covers all aspects of product development, from the creation of the concept through development and design to the final production, marketing and service. The contributors are members of the Product Development and Management Association (PDMA) and come from such firms as 3M, KPMG Peat Marwick, AT&T, Ingersoll-Rand, and Oscar Mayer.
Only 2 left
---
The PDMA ToolBook 1 for New Product Development Summary
---
The PDMA ToolBook 1 for New Product Development by Edited by Paul Belliveau
Practical cross-functional coverage of the entire product development process from idea generation through delivery of the final assembled product.* Includes sections on benchmarking and changing your new product development process and managing your product portfolio.
Why buy from World of Books
The PDMA ToolBook 1 for New Product Development Reviews
---
"...authoritative book edited by respected authors...a worthwhile addition to the NPD field..." (R & D Management, Vol 33(4), 2003)
About Edited by Paul Belliveau
---
PAUL BELLIVEAU is Principal at Paul Belliveau Associates in Westfield, New Jersey. ABBIE GRIFFIN is Professor of Business Administration at the University of Illinois at Urbana-Champaign. STEPHEN M. Somermeyer is Relationship Manager, YourEncore, Indianapolis, Indiana.
Table of Contents
---
Contricutors. Introduction. PART 1: PROJECT LEADER TOOLS TO START THE PROJECT. Fuzzy Front End: Effective Methods, Tools and Techniques (P. Koen, et al.). Hunting for Hunting Grounds: Forecasting the Fuzzy Front End (C. Miller). Telephoning Your Way to Compelling Value Propositions (G. Castellion). Focusing NPD Research on Customer-Perceived Value (C. Miller and D. Swaddling). PART 2: PROJECT LEADER TOOLS TO USE ANYTIME. Product Champions: Crossing the Valley of Death (S. Markham). Managing Product Development Teams Effectively (R. Leenders, et al.). Decision Making: The Overlooked Competency in Product Development (M. Deck). How to Assess and Manage Risk in NPD Programs: A Team Based Approach (G. Githens). PART 3: PROCESS OWNER TOOLS. Capturing Employee Ideas for New Products (C. Gorski and E. Heinekamp). Lead User Research and Trend Mapping (L. Meadows). Technology Stage Gate(TM): A Structured Process for Managing High Risk New Technology Projects (G. Ajamian and P. Koen). Universal Design: Principles for Driving Growth into New Markets (J. Mueller and M. Story). PART 4: PORTFOLIO TOOLS. Portfolio Management: Fundamental to New Product Success (R. Cooper, et al.). Assessing the Health of New Product Portfolio Management: A Metric for Assessment (R. Meltzer). Risk Management: The Program Manager's Perspective (D. Dunham). Process Modeling in New Product Development (P. Bunch and G. Blau). The PDMA Glossary for New Product Development. Index.
Additional information
The PDMA ToolBook 1 for New Product Development by Edited by Paul Belliveau
Product Development and Management ToolBooks
Book picture is for illustrative purposes only, actual binding, cover or edition may vary.
This is a used book - there is no escaping the fact it has been read by someone else and it will show signs of wear and previous use. Overall we expect it to be in very good condition, but if you are not entirely satisfied please get in touch with us.