Anthill By Edward O. Wilson (Harvard University)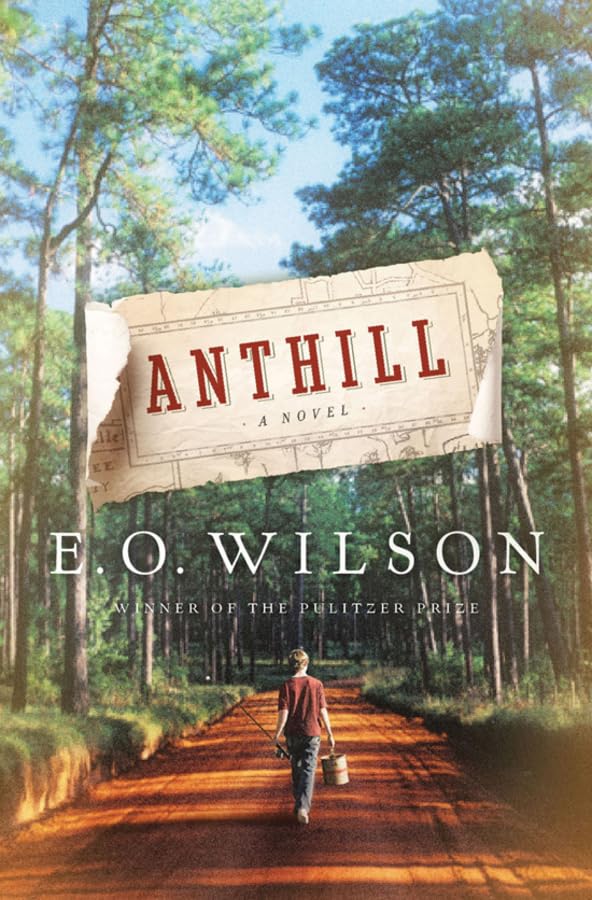 Anthill Summary
---
Anthill: A Novel by Edward O. Wilson (Harvard University)
"What the hell do you want?" snarled Frogman at Raff Cody, as the boy stepped innocently onto the reputed murderer's property. Fifteen years old, Raff, along with his older cousin, Junior, had only wanted to catch a glimpse of Frogman's 1000-pound alligator.

Thus, begins the saga of Anthill, which follows the thrilling adventures of a modern-day Huck Finn, whose improbable love of the "strange, beautiful, and elegant" world of ants ends up transforming his own life and the citizens of Nokobee County. Battling both snakes bites and cynical relatives who just don't understand his consuming fascination with the outdoors, Raff explores the pristine beauty of the Nokobee wildland. And in doing so, he witnesses the remarkable creation and destruction of four separate ant colonies ("The Anthill Chronicles"), whose histories are epics that unfold on picnic grounds, becoming a young naturalist in the process.

An extraordinary undergraduate at Florida State University, Raff, despite his scientific promise, opts for Harvard Law School, believing that the environmental fight must be waged in the courtroom as well as the lab. Returning home a legal gladiator, Raff grows increasingly alarmed by rapacious condo developers who are eager to pave and subdivide the wildlands surrounding the Chicobee River. But one last battle awaits him in his epic struggle. In a shattering ending that no reader will forget, Raff suddenly encounters the angry and corrupt ghosts of an old South he thought had all but disappeared, and learns that "war is a genetic imperative," not only for ants but for men as well.

Part thriller, part parable, Anthill will not only transfix readers with its stunning twists and startling revelations, but will provide readers with new insights into the meaning of survival in our rapidly changing world.
Why buy from World of Books
Anthill Reviews
---
"Starred Review: Lush with organic details, Wilson's keen eye for the natural world and his acumen for environmental science is on brilliant display in this multifaceted story about human life and its connection to nature." -- Publishers Weekly
"One part of Anthill, by the world's leading myrmecologist, demonstrates that in Mr Wilson ants have found not only their Darwin but also their Homer.... The tale within a tale is an astonishing literary achievement; nobody but Mr Wilson could have written it, and those who read it will tread lightly in the forest, at least for a while.... his evocation of their ways is a more powerful tool for raising ecological awareness than any Disneyfication is likely to be." -- The Economist
"Despite the seriousness of the warning he means to convey, I believe Edward O. Wilson had a fine time writing his first novel. It shows in the exuberance of the prose, and in the inventiveness of the plot.... the reader will have a great time reading it. Certainly I did." -- Margaret Atwood - New York Review of Books
"The savage conflicts between the Trailhead and Waterside colonies are as dramatic as any epic of Herodotus or Thucydides, histories Wilson evokes in his characterization of the tiny warriors as myrmidons and hoplites." -- Harvey Freedenberg - Shelf Awareness
"Wilson's foray into fiction allows him to write more expressively, psychologically, even spiritually about the great web of life, humankind included, and the irrefutable rules for ecological survival. ... A teacher as well as a scientist, Wilson uses the prism of fiction to cast new light on the grand unifying lesson of nature: all of us earthlings, all of life's astonishing creations, thrive or fail together." -- Donna Seaman - Chicago Tribune
"The astute, knowledgeable, amazing structure of Anthill is a masterpiece of craft, a fictional embodiment of the ant." -- Sue Brannon Walker, Poet Laureate of Alabama - Alabama Press-Register
"[A] beautifully written coming-of-age novel about a young boy in Alabama. The highly respected author and entomologist may be sneaking some science down the throats of self-respecting fiction readers everywhere with the tale of a boy-turned-environmental lawyer who tries to save wildlife, but we hardly mind." -- The Daily Beast
"A triumphant epic of life by the world's greatest naturalist. This is War and Peace-among the ants, the land developers, and the environmentalists and preachers. Marvel at E. O. Wilson's wondrous and captivating creation." -- Jeffrey D. Sachs, Director of the Earth Institute
About Edward O. Wilson (Harvard University)
---
Edward O. Wilson is widely recognized as one of the world's preeminent biologists and naturalists. The author of more than thirty books, including Half-Earth, The Social Conquest of Earth, The Meaning of Human Existence, and Letters to a Young Scientist, Wilson is a professor emeritus at Harvard University. The winner of two Pulitzer Prizes, he lives with his wife, Irene Wilson, in Lexington, Massachusetts.
Additional information
Anthill: A Novel by Edward O. Wilson (Harvard University)
Edward O. Wilson (Harvard University)
Book picture is for illustrative purposes only, actual binding, cover or edition may vary.
This is a used book - there is no escaping the fact it has been read by someone else and it will show signs of wear and previous use. Overall we expect it to be in very good condition, but if you are not entirely satisfied please get in touch with us.