Ib Chemistry Course Book: Oxford Ib Diploma Programme By Geoffrey Neuss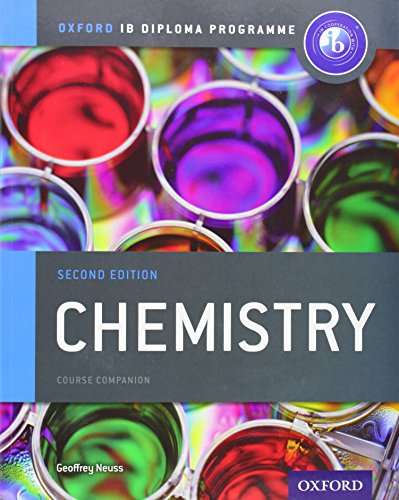 Ib Chemistry Course Book: Oxford Ib Diploma Programme
by Geoffrey Neuss
Driving an active approach to learning, this second edition was developed with the IB and most closely embodies the IB way of teaching. New digital material is loaded with hands-on activities to extend active inquiry, and the most thorough assessment preparation is included, with built-in guidance straight from the IB.
Only 1 left
---
Ib Chemistry Course Book: Oxford Ib Diploma Programme Summary
---
Ib Chemistry Course Book: Oxford Ib Diploma Programme: For the Ib Diploma by Geoffrey Neuss
This course book for Chemistry has been thoroughly revised and updated. Still uniquely developed with the IB for the latest syllabus, all of the features from the first edition have been retained - including the wider aims of the IB through connections to TOK, international-mindedness and the IB learner profile. With material integrated to include international and historical perspectives, students will be encouraged to think critically and make connections to other subjects and to world issues. Data-based question and ideas for practical experiments reinforce learning. Now in colour, more diagrams and photographs have been included to illustrate the concepts discussed and to place the subject in context. The CD material has been designed to enhance the book content. There are interactive multiple choice quizzes for each chapter to allow students to check their comprehension. Full answers to questions in the book are included. Complete details of practicals on core topics which students can perform in a laboratory to extend and consolidate their knowledge of topics.
Why buy from World of Books
Ib Chemistry Course Book: Oxford Ib Diploma Programme Reviews
---
The Oxford course books are the best ever resource for both teachers and students. They are practical, insightful and fully in line with the IB Course outcomes. Pat Hanson, IB Coordinator, Academy of the Holy Cross, USA All of the Oxford IB course books are terrific. Carolyn Hawkins, IB Coordinator, Cookeville High School, USA We have adopted most of the Oxford IB course books for our school. We find them well written, well linked to TOK issues and age appropriate. Sheta Saha, IB Coordinator, Chatsworth International School, Singapore
Table of Contents
---
1. Quantitative chemistry ; 2. Atomic structure ; 3. Periodicity ; 4. Bonding and structure ; 5. Energetics ; 6. Kinetics ; 7. Equilibrium ; 8. Acids and bases ; 9. Oxidation and reduction ; 10. Organic chemistry ; 11. Uncertainty and error in measurement ; 12. External and internal assessment ; 13. Extended essay ; 14. Option A: modern analytical chemistry ; 15. Option B: human biochemistry ; 16. Option C: chemistry in industry and technology ; 17. Option D: medicines and drugs ; 18. Option E: environmental chemistry ; 19. Option F: food chemistry ; 20. Option G: further organic chemistry ; Answers to questions ; Index
Additional information
Ib Chemistry Course Book: Oxford Ib Diploma Programme: For the Ib Diploma by Geoffrey Neuss
Book picture is for illustrative purposes only, actual binding, cover or edition may vary.
The book has been read but remains in clean condition. All pages are intact and the cover is intact. Some minor wear to the spine.