A Pack of Lies By J. A. Barnes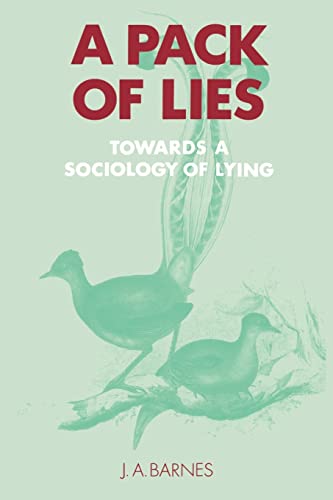 A Pack of Lies
by J. A. Barnes
This book considers the contexts in which people tell lies and explores the consequences.
Only 1 left
---
A Pack of Lies Summary
---
A Pack of Lies: Towards a Sociology of Lying by J. A. Barnes
Defining lies as statements that are intended to deceive, this book considers the contexts in which people tell lies, how they are detected and sometimes exposed, and the consequences for the liars themselves, their dupes, and the wider society. The author provides examples from a number of cultures with distinctive religious and ethical traditions, and delineates domains where lying is the norm, domains that are ambiguous and the one domain (science) that requires truthtelling. He refers to experimental studies on children that show how, at an early age, they acquire the capactiy to lie and learn when it is appropriate to do so. He reviews how lying has been evaluated by moralists, examines why we do not regard novels as lies and relates the human capacity to lie to deceit among other animal species. He concludes that although there are, in all societies, good pragmatic reasons for not lying all the time, there are also strong reasons for lying some of the time.
Why buy from World of Books
A Pack of Lies Reviews
---
"Barnes composes a vision of lying that interlaces material from an impressive array of sources...The typology of lies expostulated in the book could possibly provide researchers with a foil for generating testable hypotheses." Mark L. Harvey, Comtemporary Psychology
"...an impeccably scholarly survey...." Contemporary Sociology
Table of Contents
---
Preface; Acknowledgments; l. What is a lie? 2. Where lies are expected; 3. Ambiguous domains; 4. Science; 5. Cultural diversity; 6. Structural relations; 7. Self-deception and connivance in deceit; 8. Telling and detecting lies; 9. Benign untruths: the discourse of fiction; l0. Evaluations; 11. Do we have to lie?.
Additional information
A Pack of Lies: Towards a Sociology of Lying by J. A. Barnes
Themes in the Social Sciences
Cambridge University Press
Book picture is for illustrative purposes only, actual binding, cover or edition may vary.
This is a used book - there is no escaping the fact it has been read by someone else and it will show signs of wear and previous use. Overall we expect it to be in very good condition, but if you are not entirely satisfied please get in touch with us.