The Blade Itself By Joe Abercrombie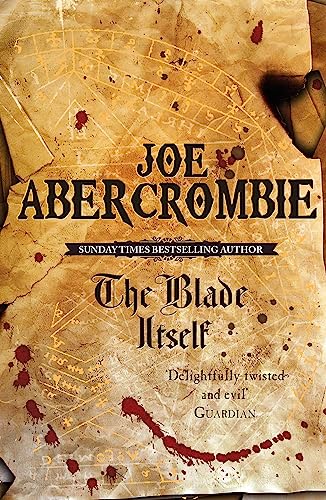 The Blade Itself
Used Price
£2.99
New RRP £9.99
Free Shipping in the UK
The astonishing novel which launched Joe Abercrombie's career, THE BLADE ITSELF is a superb, dark and addictive epic fantasy.
94 in stock
---
The Blade Itself Summary
---
The Blade Itself: Book One by Joe Abercrombie
Inquisitor Glokta, a crippled and increasingly bitter relic of the last war, former fencing champion turned torturer extraordinaire, is trapped in a twisted and broken body - not that he allows it to distract him from his daily routine of torturing smugglers.
Nobleman, dashing officer and would-be fencing champion Captain Jezal dan Luthar is living a life of ease by cheating his friends at cards. Vain, shallow, selfish and self-obsessed, the biggest blot on his horizon is having to get out of bed in the morning to train with obsessive and boring old men.
And Logen Ninefingers, an infamous warrior with a bloody past, is about to wake up in a hole in the snow with plans to settle a blood feud with Bethod, the new King of the Northmen, once and for all - ideally by running away from it. But as he's discovering, old habits die really, really hard indeed...
...especially when Bayaz gets involved. A bald old man with a terrible temper and a pathetic assistant, he could be the First of the Magi, he could be a spectacular fraud, but whatever he is, he's about to make the lives of Glotka, Jezal and Logen a whole lot more difficult...
Why buy from World of Books
The Blade Itself Reviews
---
Highly recommended - a funny, finely-wrought, terrifically energetic work of high fantasy. Seek it out -- Joe Hill
Twisty plotting and gallows humour. * SUNDAY TIMES *
I might not end up marrying this book, but I'm certainly infatuated with it right at the moment. It's delicious, the characters sharply drawn and their motivations believable, the clash of cultures (always particularly difficult for an author to pull off) believable as well. -- Lilith Saintcrow
There is a gritty edge to his world and an awareness of the human cost of violence that is very contemporary -- The Times
Delightfully twisted and evil -- The Guardian
The Blade Itself is a page-turner powered by a combination of fast-paced action and juicy doses of cynicism. Perhaps more remarkable, however, is the way Abercrombie sets the scene -- Edge Magazine
There's a fat vein of cynicism and dark humour throughout. The action scenes are fast-paced and the violence takes its toll both mentally and physically. A great start to a long journey' -- Dreamwatch
You'd never guess that The Blade Itself is Joe Abercrombie's debut novel. He writes like a natural. There are great characters, sparky dialogue, an action-packed plot, and from the very first words and an opening scene that is literally a cliff-hanger, you know you are in for a cheeky, vivid, exhilarating ride -- Starburst
An admirably hard, fast and unpretentious read from debut author Joe Abercrombie. Packs a mean punch in the bloodthirsty mayhem and mystery departments. Crammed full of torture, vengeance and bad behaviour, it's a lively tale of savagery vs. civilisation. The Blade Itself may not reinvent the wheel, but it does serve up a whole banquet of violent action and intrigue' -- SFX
The star of the show is doubtlessly Inquisitor Glotka for simply being one of the most wonderfully bitter and cynical characters I've come across. With a very funny and clever internal monologue going on during every conversation he has, Glotka's as miserable and nasty at the end as he was to start with and, especially in a heroic fantasy novel, it works perfectly -- SF Crowsnest
About Joe Abercrombie
---
Joe Abercrombie is the author of the First Law Trilogy (The Blade Itself, Before They Are Hanged and Last Argument of Kings). His standalone novels (Best Served Cold, The Heroes and Red Country) are also set in the First Law world. His novels have been shortlisted for the World Fantasy Awards, British Fantasy Awards, John W. Campbell Award and the David Gemmell Legend Awards. His covers are also award winning, and have won both the David Gemmell Legend Award and the World Fantasy Award for best artwork. Joe formerly worked as a freelance film editor and is now a full time writer who lives in Bath with his family. Follow @LordGrimdark on twitter for more information, or visit www.joeabercrombie.com.
Additional information
The Blade Itself: Book One by Joe Abercrombie
Book picture is for illustrative purposes only, actual binding, cover or edition may vary.
This is a used book - there is no escaping the fact it has been read by someone else and it will show signs of wear and previous use. Overall we expect it to be in very good condition, but if you are not entirely satisfied please get in touch with us.