The Legacy of Elizabeth Pringle By Kirsty Wark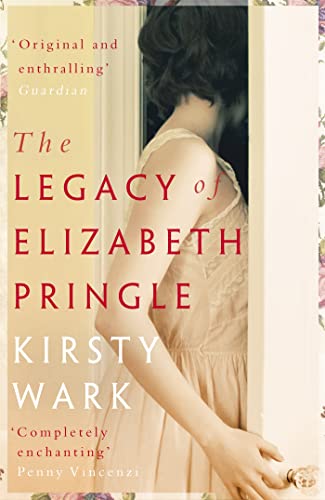 The Legacy of Elizabeth Pringle
Used Price
£2.99
New RRP £9.99
Free Shipping in the UK
One of the UK's most respected and well-known journalists and broadcasters moves into fiction. The Legacy of Elizabeth Pringle is a multi-generational story of love and belonging set on the Scottish island of Arran.
24 in stock
---
The Legacy of Elizabeth Pringle Summary
---
The Legacy of Elizabeth Pringle: a story of love and belonging by Kirsty Wark
'ORIGINAL AND ENTHRALLING' Guardian
'AFFECTING AND TENDER' The Times
'COMPLETELY ENCHANTING' Penny Vincenzi
Elizabeth Pringle lived all her long life on the Scottish island of Arran. But did anyone really know her? In her will she leaves her beloved house, Holmlea, to a stranger - a young mother she'd seen pushing a pram down the road over thirty years ago. It now falls to Martha, once the baby in that pram, to answer the question: why? Martha is coping with her mother's dementia and the possibility of a new life on Arran could be a new start.
A captivating story for fans of Rosamund Pilcher, Maeve Binchy and Rachel Joyce of the richness behind the so-called ordinary lives of women and the secrets and threads that hold them together.
And Kirsty Wark's second novel, The House by the Loch, a story of unlikely love and long-hidden family secrets set in the beautiful Scottish countryside, is out now.
Why buy from World of Books
The Legacy of Elizabeth Pringle Reviews
---
Kirsty Wark's first novel gleams with beauty... Part romance, part family history, mother-and-daughter fable and meditation on memory, The Legacy of Elizabeth Pringle has qualities of heart... something of great worth and beauty gleams through the narrative and haunts the reader with its imaginative truth... Wark's presentation of a unique love unalloyed by sexuality is original and enthralling. The Legacy of Elizabeth Pringle is a hymn to the stark beauty of the island of Arran. * Guardian *
Curl up for this big-hearted romantic debut by the Newsnight presenter... A pulse of secrets drives the story along... affecting and tender. * The Times *
Set on the Scottish island of Arran, Kirsty Wark's brilliantly vivid descriptions bring alive a story that reaches across the generations. * Daily Mail *
The narrative switches between Elizabeth and Martha...The structure works well, demonstrating the similarities and differences between the two women. Both are well-rounded characters and their stories are engaging... Martha's relationship with Anna is beautifully and touchingly written, a daughter helplessly watching her beloved, vibrant mother fade away... This is an appealing debut that sustains interest to the very last page... Elizabeth Pringle is a quietly heroic character and, like Arran, she never fails to charm. * Independent on Sunday *
The story is set in the beautiful Scottish island of Arran, a place Wark very obviously knows and loves... Wark's story telling is direct, compelling and rewarding for the reader. She is a real writer who happens to do television. * Daily Mail *
The book is fresh and beguiling... Wark deftly and delicately plaits the intricate tales of three women... The narrative is packed with incidents but, for the most part, does not rush; it breathes, sighs, ponders. Wark has an exceptionally vivid sense of place. Windswept Arran and Holy Island become starkly beautiful lodestones which keep its old inhabitants and draw new ones. The landscapes, soil and vegetation have the power to heal broken humans, deliver love and hope after calamities. George Eliot paid homage to those "who lived faithfully a hidden life, and rest in unvisited tombs." In this novel some of those hidden stories are told and graves visited with real tenderness. * Independent *
a lyrical, truthful, contemplative book. [it] grows, imperceptibly, like bindweed round the reader, captivating them and then practically throttling them in with a denouement so shocking that I could barely speak afterwards. * Daily Telegraph *
The BBC presenter's debut novel is an enjoyable mother-and-daughter fable and meditation on memory * Observer *
Wark depicts the weather, the landscape and the inhabitants of the island so vividly that all I wanted was a ferry ticket. * Woman & Home *
An excellent, page-turning debut from the Newsnight presenter. -- Viv Groskop * Red Magazine *
This haunting story of love and loss, set in Kirsty's beloved Scottish Highlands, will linger with you long after you've reluctantly read the last page. * Woman's Weekly *
The accomplished journalist and broadcaster's -first foray into -fiction is a moving and intelligent novel - its language is poetic without being overblown; its subject matter poignant but not overly sentimental... On the surface a tale of romance, loss, family and history, its emotional force comes from an exploration of that most intimate of relationships: between mothers and daughters...All the characters are well rounded and authentic, and the island itself emerges as one of them. Indeed, it is the depiction of Arran that lifts the book out of the ordinary: the haunting, evocative and nostalgic setting becomes the -fitting backbone of this rich and captivating story. * The Lady *
very, very good... a tribute to life and indomitability with smiles and excitement among the minutiae and discoveries... This wonderfully enthralling story held together by three redoubtable, engaging and very real women is for everyone * Bookbag (Top 10 Historical Novels of 2014) *
meditative, beguiling and absorbing * Daunts Books - Marylebone Journal *
Exquisite prose... a beautiful, sometimes devastating story that truly touches the heart. * Daily Record *
Gentle and genteel * Sunday Herald *
I can't imagine how Kirsty Wark found the time to write this big, rich novel when she is never off TV. It's terrifically readable, and the setting, the isle of Arran, is beautifully rendered. * Saga magazine *
[An] elegant debut novel from journalist and TV presenter Kirsty Wark... The secrets and courage of [Elizabeth's] life become apparent and the climax of her story is as satisfying as it is unexpected. The magic of the island, with its soft rains, carpets of flowers and ever-changing seascapes comes across strongly as Wark makes equal magic out of the extraordinariness of ordinary lives. * WI Life Magazine *
Beautifully paced and interesting... well defined and interesting. A really good read and a great first novel. * Bay of Plenty Times (NZ) *
Deeply moving, this is broadcaster Kirsty's debut novel and we can't wait to see what else she's got for us. * Woman's Way (Ireland) *
Completely enchanting. The story of two women's intertwined lives draws you in and holds you spellbound to the end. * Penny Vincenzi *
Arran is the perfect setting and there is a deep sense of belonging. The Legacy of Elizabeth Pringle is a really good read. * Rosamunde Pilcher *
An intriguing marriage of past and present, and an absorbing narrative. It made me want to go to Arran. * Penelope Lively *
About Kirsty Wark
---
Kirsty Wark is a journalist, broadcaster and writer who has presented a wide range of BBC programmes over the past thirty years, from the ground-breaking Late Show to the nightly current affairs show Newsnight and the weekly Arts and Cultural review and comment show, The Review Show. Kirsty has won several major awards for her work, including BAFTA Awards for Outstanding Contribution to Broadcasting, Journalist of the Year and Best Television Presenter. Her debut novel, The Legacy of Elizabeth Pringle, was published in March 2014 by Two Roads and was shortlisted for the Saltire First Book of the Year Award, as well as nominated for the 2016 International DUBLIN Literary Award. Her second novel, The House by the Loch, has been inspired by her childhood memories and family, particularly her father. Born in Dumfries and educated in Ayr, Scotland, Kirsty now lives in Glasgow.
Additional information
The Legacy of Elizabeth Pringle: a story of love and belonging by Kirsty Wark
Hodder & Stoughton General Division
Book picture is for illustrative purposes only, actual binding, cover or edition may vary.
This is a used book - there is no escaping the fact it has been read by someone else and it will show signs of wear and previous use. Overall we expect it to be in very good condition, but if you are not entirely satisfied please get in touch with us.