Liberating Tradition By Kristina LaCelle-Peterson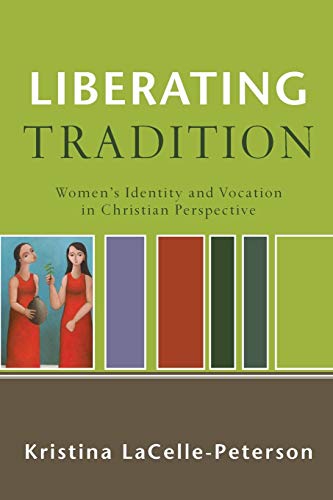 Liberating Tradition
by Kristina LaCelle-Peterson
Offers a clear perspective on the issues Christian women face in the twenty-first century and shows how the Bible is a liberating and enriching book for women.
Only 1 left
---
Liberating Tradition Summary
---
Liberating Tradition: Women's Identity and Vocation in Christian Perspective by Kristina LaCelle-Peterson
Kristina LaCelle-Peterson seeks both to affirm the central place of Scripture in the Christian life and to highlight the liberating nature of the gospel for both men and women. To do this the author considers the biblical ideal for human beings and then proceeds to offer a biblical foundation for each of the topics under discussion--identity, body image, personal relationships, marriage, church life, and language for God. Along the way she examines the cultural nature of gender roles and the ways in which they have become entangled with ecclesial expectations. This book will help women better appreciate themselves as women, gain a better understanding of their value in God's eyes, and recognize their potential for meaningful engagement in a variety of relationships and vocational callings.
Why buy from World of Books
About Kristina LaCelle-Peterson
---
Kristina LaCelle-Peterson (PhD, Drew University) is associate professor of religion at Houghton College in Houghton, New York, and is an ordained elder in the Free Methodist Church.
Table of Contents
---
Chapter 1: Peril and Promise: Women's Experience and the Christian Faith
PART ONE: Women's Identity, Human Identity
Chapter 2: Made in God's Image
Chapter 3: Women (Characters) in Scripture
Chapter 4: Supermodels for Jesus? Christian Women and Body Image
PART TWO: We're in this Thing Together
Chapter 5: The Good, the Bad and the Downright Strange: Marriages in the Bible
Chapter 6: Mistaking the Industrial Revolution for the Garden of Eden: The Myth of the "Traditional" Marriage
Chapter 7: Two Heads Are Better than One: Marriage as Partnership
PART THREE: Women in the Church and the World (or Why Watching TV Is Not Enough)
Chapter 8: Seeing the Invisible: Women in the Early Church
Chapter 9: Abbesses, Mystics, and Reformation Women
Chapter 10: Changing the World: Women in Missions, Social Reform, and Church Work in American Evangelicalism
PART FOUR: I Said What I Meant, and I Meant What I Said
Chapter 11: Not Counting Women and Children: Linguistic Invisibility in the Church
Chapter 12: The Discarded Images: Reasserting Biblical Language for God
Chapter 13: Up and Out: Conclusions
Additional information
Liberating Tradition: Women's Identity and Vocation in Christian Perspective by Kristina LaCelle-Peterson
Kristina LaCelle-Peterson
Book picture is for illustrative purposes only, actual binding, cover or edition may vary.
This is a used book - there is no escaping the fact it has been read by someone else and it will show signs of wear and previous use. Overall we expect it to be in very good condition, but if you are not entirely satisfied please get in touch with us.