Marketing Research Kit For Dummies By Michael Hyman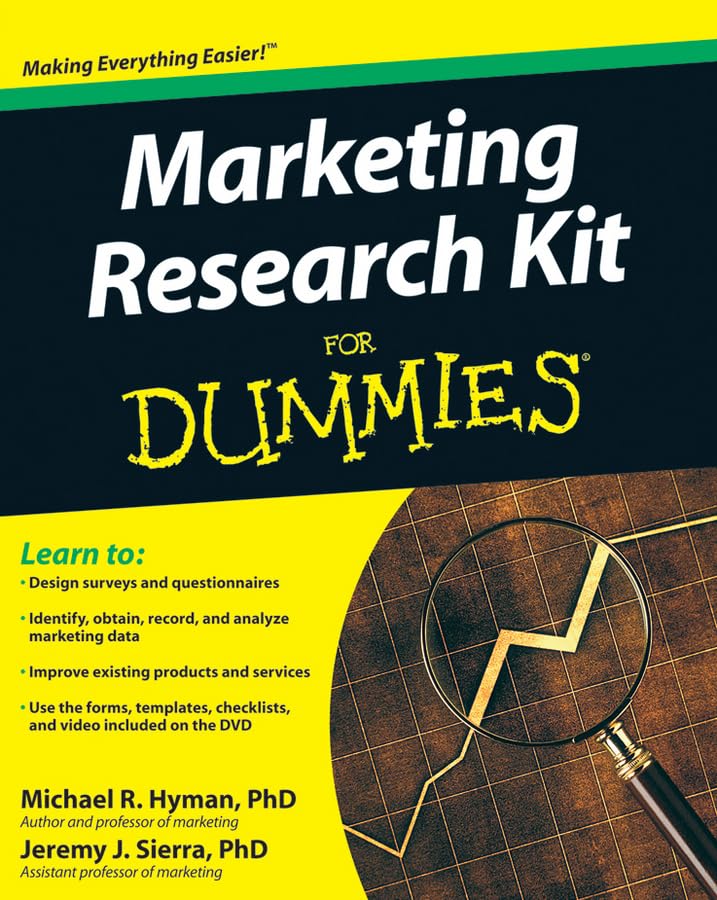 Marketing Research Kit For Dummies
by Michael Hyman
Market Research Kit For Dummies , with the accompanying CD, provides readers within any organisation with the hands-on tools they need to identify, obtain, record and analyse data, whether they're developing a business plan, launching a new product or service, or revising their marketing plan.
Only 2 left
---
Marketing Research Kit For Dummies Summary
---
Marketing Research Kit For Dummies by Michael Hyman
The tools you need to identify, obtain, record, and analyze data Sure, access to data is faster and easier to obtain than ever before, but how do you cut through the clutter of information to find what's most useful and organize it to suit your purposes? Marketing Research Kit For Dummies supplies a brimming box of tools that help you mine mountains of data, find the sources you need, and focus your marketing plan. Whether you're an entrepreneur, a small business owner, or a marketer in a large organization, this powerful resource and companion CD provide you with hands-on tools you need to identify, obtain, record, and analyze secondary, data-electronic and print-for developing or revising a marketing plan, launching a new product or service, or implementing long-term strategic planning. It also offers clear, in-depth instructions and customizable forms for conducting your own primary research. Includes complete instructions for writing a research plan, conducting depth interviews, and focus groups Fully explains the process of sampling, analyzing data, and reporting results Features tips on developing questionnaires for face-to-face, Internet, and postal surveys Helps you keep an eye on your competition and analyze their results When money is tight and everything is on the line, you need to make sure you've done your homework . You need Marketing Research Kit For Dummies. Note: CD-ROM/DVD and other supplementary materials are not included as part of eBook file.
Why buy from World of Books
About Michael Hyman
---
Michael R. Hyman, PhD, is a Stan Fulton Chair and professor of marketing, the author of more than 100 published scholarly papers, and current member of nine journal editorial review boards. Jeremy J. Sierra PhD, is an assistant professor of marketing with a teaching interest in sports marketing and marketing research.
Table of Contents
---
Introduction. Part I: Marketing Research: Learn It, Live It, Love It. Chapter 1: Seeing What Marketing Research Can Do for You. Chapter 2: Following the Stages of the Marketing Research Process. Chapter 3: Surveying the Types of Research You May Do. Chapter 4: Believing In Marketing Research Ethics. Chapter 5: Working with Independent Marketing Researchers. Part II: Surveys: A Great Way to Research. Chapter 6: Different Types of Surveys You May Use. Chapter 7: Recognizing Errors in Survey Research. Chapter 8: Asking People about Their Attitudes. Chapter 9: Writing Good Questions. Chapter 10: Designing Good Questionnaires. Chapter 11: Deciding on a Sample Type. Chapter 12: Selecting a Sample Size. Part III: More Methods to Meet Your Needs. Chapter 13: Secondary Data: What Is It and How Do You Use It? Chapter 14: Using In-Depth Interviews and Focus Groups. Chapter 15: Projective Techniques and Observational Methods. Chapter 16: Conducting Experiments and Test Marketing. Part IV: Collecting, Analyzing, and Reporting Your Data. Chapter 17: Collecting and Preparing Your Data. Chapter 18: Tools for Analyzing Your Data. Chapter 19: Creating Effective Research Reports. Part V: The Part of Tens. Chapter 20: Ten Useful Research Tips for Business Operators. Chapter 21: Ten Statistical Methods that You (or Your Research Consultant) May Use. Appendix: On the DVD. Index.
Additional information
Marketing Research Kit For Dummies by Michael Hyman
Book picture is for illustrative purposes only, actual binding, cover or edition may vary.
This is a used book - there is no escaping the fact it has been read by someone else and it will show signs of wear and previous use. Overall we expect it to be in very good condition, but if you are not entirely satisfied please get in touch with us.