Kosher Creole Cookbook By Mildred L. Covert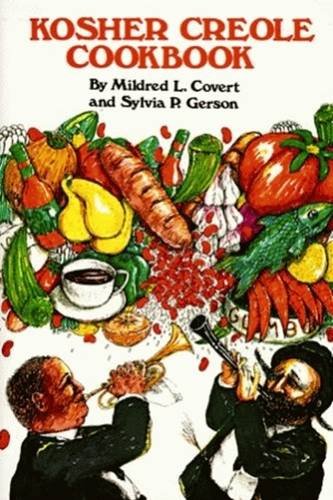 Kosher Creole Cookbook
by Mildred L. Covert
This work brings together two culinary traditions: the Creole - a blend of aspects of French, Spanish, African, American Indian cooking and the Jewish, dating from biblical times. Arranged by month, the recipes highlight feasts and festivals in the Jewish calender, or in the city of New Orleans
Only 1 left
---
Kosher Creole Cookbook Summary
---
Kosher Creole Cookbook by Mildred L. Covert
Blend a dash of Kosher with a pinch of Creoleand you have the Kosher Creole Cookbook . The authors havecombined two famous culinary traditions: the Creole-a blend of certain aspectsof French, Spanish, African, and American cooking-and the Jewish, dating frombiblical times.Those who keep Kosher can now savor the Creole cuisine for which New Orleansis famous. Imaginative substitutes that unite to create authentic Creole flavorserve to replace ingredients that are in conflict with the laws of Kashruth.Arranged by month, the recipes highlight feasts and festivals in the Jewishcalendar or in the city of New Orleans. Each chapter is also introduced byfascinating sketches about the history, traditions, and culture of the CrescentCity.Jewish Week calls this volume "one of the most unusual cookbooks"seen in recent years. Kosher Creole Cookbook "combines twocuisines which would seem to have no business being together-kosher cookingwith Creole cooking. This is a delightful and unusual addition to yourcollection of cookbooks."Mildred L. Covert and Sylvia P. Gerson have carefully researched and createdrecipes that adapt the characteristic flavors of each cuisine, whether it'sCreole, Cajun, or Southern, to ensure that the traditional can keep Kosherwithout giving up flavor. The two New Orleanians have written three otherKosher cookbooks: Kosher Cajun Cookbook , KosherSouthern-Style Cookbook , and A Kid's Kosher CookingCruise (pb), all published by Pelican.
Why buy from World of Books
About Mildred L. Covert
---
Mildred L. Covert has served as president and board member of Congregation Beth Israel Sisterhood, as a board member of the New Orleans Chapter of Hadassah, and as vice president of education at the Beth Israel Hebrew School. The late Sylvia P. Gerson served as president of the Congregation Beth Israel Sisterhood, was a member of the national board of the American Association for Ethiopian Jews, and was a founder and board member of Willow Wood at Woldenberg Village in New Orleans.
Additional information
Kosher Creole Cookbook by Mildred L. Covert
Book picture is for illustrative purposes only, actual binding, cover or edition may vary.
This is a used book - there is no escaping the fact it has been read by someone else and it will show signs of wear and previous use. Overall we expect it to be in very good condition, but if you are not entirely satisfied please get in touch with us.