Bloody Foreigners By Robert Winder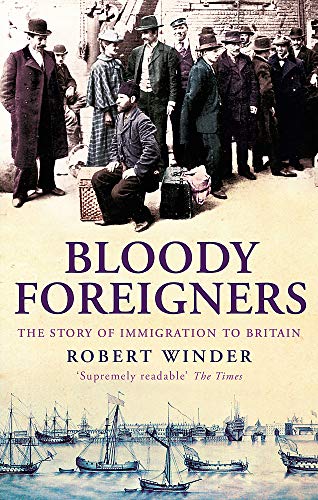 Bloody Foreigners
Used Price
£4.49
New RRP £10.99
Free Shipping in the UK
The story of immigration to Britain from the Romans to asylum seekers. A moving and inspiring history which chronicles the remarkable stories of immigration that founded and defined a nation.
8 in stock
---
Bloody Foreigners Summary
---
Bloody Foreigners: The Story of Immigration to Britain by Robert Winder
Immigration is one of the most important stories of modern British life, yet it has been happening since Caesar first landed in 53 BC. Ever since the first Roman, Saxon, Jute and Dane leaped off a boat we have been a mongrel nation. Our roots are a tangled web. From Huguenot weavers fleeing French Catholic persecution in the 18th century to South African dentists to Indian shopkeepers; from Jews in York in the 12th century (who had to wear a yellow star to distinguish them and who were shamefully expelled by Edward I in 1272) to the Jamaican who came on board the Windrush in 1947. The first Indian MP was elected in 1892, Walter Tull, the first black football player played (for Spurs and Northampton) before WW1 (and died heroically fighting for the allies in the last months of the war); in 1768 there were 20,000 black people in London (out of a population of 600,000 - a similar percentage to today). The 19th century brought huge numbers of Italians, Irish, Jews (from Russia and Poland mainly), Germans and Poles. This book draws all their stories together in a compelling narrative.
Customer Reviews - Bloody Foreigners
---
Why buy from World of Books
Bloody Foreigners Reviews
---
splendidly researched and subtle history OBSERVER a topical, formidable and engaging book which will have - and deserves to have - many readers...a breath of fresh air SUNDAY TIMES Robert Winder's totally absorbing and revelatory book could not be more timely (and) indispensable DAILY MAIL
About Robert Winder
---
Robert Winder was literary editor of the INDEPENDENT for 5 years. He has written two novels.
Additional information
Bloody Foreigners: The Story of Immigration to Britain by Robert Winder
Book picture is for illustrative purposes only, actual binding, cover or edition may vary.
This is a used book - there is no escaping the fact it has been read by someone else and it will show signs of wear and previous use. Overall we expect it to be in very good condition, but if you are not entirely satisfied please get in touch with us.