Data Warehouse Project Management By Sid Adelman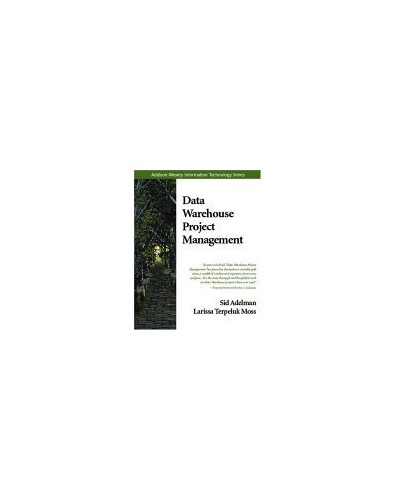 Data Warehouse Project Management
by Sid Adelman
Data warehouse development projects present a unique set of management challenges that can confound even the most experienced project manager. This work addresses these challenges and provides a roadmap to managing every aspect of data warehouse design, development, and implementation. It also reveals many pitfalls to watch out for.
Only 1 left
---
Data Warehouse Project Management Summary
---
Data Warehouse Project Management by Sid Adelman
The average data warehouse takes three years to build and costs $3-5 million -- yet many data warehouse project managers are thrown into the position with no clear idea of their roles, authority, or even objectives. It's no wonder that 85% of all data warehouse projects fall short of their objectives, and 40% fail completely. In Data Warehouse Project Management, two leading data warehouse project management consultants present start-to-finish best practices for getting the job done right. Sid Adelman and Larissa Terpeluk Moss cover the entire lifecycle, from proposing a data warehouse project through staffing a team, developing project scope, justifying, negotiating, and marketing the data warehouse project internally, and then implementing the data warehouse. They present real-world case studies identifying the key pitfalls that arise repeatedly in data warehouse projects -- and offer proven solutions for addressing these challenges. The book and CD-ROM contain an extensive library of templates and checklists, plus self-tests to determine whether an organization is really ready for data warehousing.
Why buy from World of Books
About Sid Adelman
---
Sid Adelman is founder of Sid Adelman & Associates, an organization specializing in planning and implementing data warehouses. He presents regularly at data warehouse conferences and conducts a Data Warehouse Project Management seminar. Sid is also a founding member of the BIAlliance. He jointly developed a methodology that provides a master plan for implementing data warehouses. He wrote Data Warehouse Project Management (Addison-Wesley, 2000) with Larissa Moss.
Larissa Moss is founder and president of Method Focus, Inc., a consulting firm specializing in business intelligence and data warehousing. She is a frequent lecturer and speaker at conferences in the United States, Europe, and Asia on data warehousing, project management, development methodologies, and organizational and cultural issues. Her articles on these topics are regularly published in magazines such as DM Review and Journal of Data Warehousing. She is coauthor of Data Warehouse Project Management (Addison-Wesley, 2000) and Impossible Data Warehouse Situations (Addison-Wesley, 2003). She is a senior consultant at the Cutter Consortium and one of the authors of their Business Intelligence Executive Reports.
0201616351AB09262002
Table of Contents
---


List of Figures.


Foreword.


Preface.


Acknowledgments.


1. Introduction to Data Warehousing.
Traditional Development.Data Warehousing.The Role of Project Management.Difficulty of Managing Data Warehouse Projects.Summary.Workshop.

2. Goals and Objectives.
Traditional Decision Support Deficiencies.Data Management Solutions.Data Warehouse Short-Term Objectives.Data Warehouse Long-Term Objectives.Summary.Workshop.

3. Indicators of Success.
Measures of Success.Critical Success Factors.Measuring Results.Summary.Workshop.

4. Risks.
Types of Failures.Types of Risks.Poison People.Summary.Workshop.

5. Satisfying the User.
Understanding the Business.Types of Users.Communicating with the Users.Requirements.Internal Selling.Summary.Workshop.

6. Cost Benefit.
The Need for Cost Justification.Costs.Benefits.Summary.Workshop.

7. Selecting Software.
Data Warehouse Tools.Where the Tools Fit in the Technical Architecture.Product Requirements.Vendor Evaluation.Research.Making the Decision.Summary.Workshop.

8. Organization and Cultural Issues.
Current Situation.Cultural Imperatives.Organization to Support the Data Warehouse.Data Warehouse Roles.Advisory Boards.Recruiting and Retention.The Data Warehouse Team.Training.Summary.Workshop.

9. Methodology.
Data Warehouse Iterations.Prototyping as a Development Approach.Parallel Development Tracks.Major Development Steps.Summary.Workshop.

10. Data Models.
Logical Data Model.Physical Data Model.Summary.Workshop.

11. Data Quality.
Data Management and Data Delivery.The Cost of Data Chaos.Defining Data Quality for the Data Warehouse.Data Cleansing Categories.Triaging Data Cleansing Activities.Summary.Workshop.

12. Project Planning.
Need for Project Planning.The Project Plan.Estimating.Controlling the Project.First Project Selection.Communication.Summary.Workshop.

Appendix.
Data Warehouse Applications by Industry.User Responsibility Problem.User Validation Template.Words to Use/Words Not to Use.Sample Letter to Interviewees.Interview Results Template.User Satisfaction Survey.User Scorecard.Benefits Analysis for Health Care.Benefits Analysis for Finance.Desired Types of References.Questions for the References.Vendor Rules of Engagement.Plan to Select Products.Data Warehouse Product Categories.Organizational Structures.Salary Survey.Service Level Agreement Standards.Questions for External Data Vendors.Project Plan Task Template.Sample Project Plan.Disaster Examples.

Index. 0201616351T04062001

Additional information
Data Warehouse Project Management by Sid Adelman
Book picture is for illustrative purposes only, actual binding, cover or edition may vary.
This is a used book - there is no escaping the fact it has been read by someone else and it will show signs of wear and previous use. Overall we expect it to be in very good condition, but if you are not entirely satisfied please get in touch with us.