How to Quinoa By Tiffany Beveridge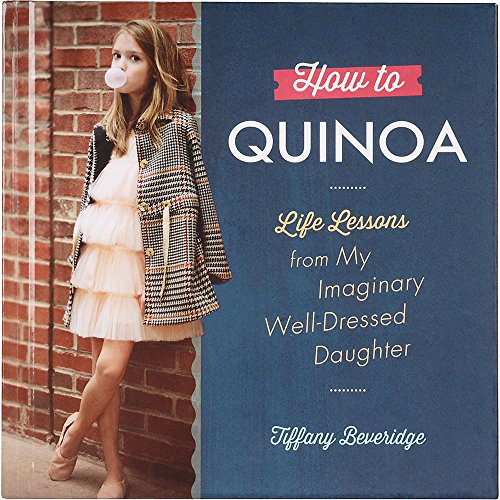 How to Quinoa
by Tiffany Beveridge
The wildly popular Pinterest board My Imaginary Well-Dressed Toddler Daughter has been featured all over the Web, and currently has 75,000+ followers and is growing by the minute. The book will go beyond photos and captions and include even more hilarious quotes, suggestions, and deep thoughts to Quinoa's adoring fans everywhere, as well as charts, recipes, quizzes, lists, and more.
Only 2 left
---
How to Quinoa Summary
---
How to Quinoa: Life Lessons from My Imaginary Well-Dressed Daughter by Tiffany Beveridge
MEET QUINOA! She's the fearless and fashion-forward toddler taking over the world one elabourate play date at a time. From designer duds to posh friends to even the most avant-garde snack foods, Quinoa is setting trends and taking names. (In fact, see her list of approved baby names inside.) She's got more cool factor than the Kardashian, Jolie-Pitt, and Paltrow offspring combined. Oh yeah . . . she's also imaginary.Based on the wildly popular Pinterest board, My Imaginary Well-Dressed Toddler Daughter, How to Quinoa will take you on a tour of high fashion hilarity with snapshots and stories from the life of the world's most influential toddler, plus tips and best practices to transform your own life and wardrobe from snore to roar. Quinoa will show you how to do everything from raising a superior child to securing a compatible BFF. And from finding your own path to designer happiness to practicing on-trend hobbies like drinking flavored lemonades from mason jars. So, ask yourself this: Are you ready to Quinoa?
Why buy from World of Books
How to Quinoa Reviews
---
"Tiffany has the most hilarious and creative imagination, and it shines in this book. Quinoa and her band of wittily named friends are my favorite ensemble cast." --Allie Hagan, author of Suri's Burn Book "I want to babysit Quinoa so I can raid her closet when I put her down for a nap." --Babe Walker, author of White Girl Problems "How to Quinoa is brilliant and hilarious. Snark and satire at its best." --Bunmi Laditan, author of The Honest Toddler: A Child's Guide to Parenting PRAISE FOR My Imaginary Well-Dressed Toddler Daughter PINTEREST Board "Pinterest page My Imaginary Well-Dressed Toddler Daughter parodies the fashion industry in the most adorable way possible." --Harper's Bazaar "Amazing captions. We are all better for it." --Jezebel "My favorite Pinterest site." --Esquire "A hilarious new viral Pinterest board creates a story to go with all those overly aspirational kids' fashion photos." --iVillage "The fantastic life of a fictitious daughter." --CNN "...a gem...that reads like the next big meme." --NY Mag/The Cut "...Quinoa, the imaginary hipster toddler taking over Pinterest, is officially my new obsession." --Glamour "My Imaginary Well-Dressed Toddler Daughter is the definitive best Pinterest board. Pinterest, you've been defeated." --BuzzFeed UK "I recently became obsessed with this Pinterest board My Imaginary Well-Dressed Toddler Daughter. It follows Quinoa, the trendiest kid you'll ever (not) meet." --Lucky magazine
About Tiffany Beveridge
---
Tiffany Beveridge is a freelance copywriter who has written everything from consumer catalogs to radio ads for national brands such as Mrs. Fields Cookies, DuPont, and Benjamin Moore. An avid blogger, tweeter, Facebooker, and pinner, Tiffany lives with her husband and two wonderful (but averagely dressed) sons outside Philadelphia, PA.
Additional information
How to Quinoa: Life Lessons from My Imaginary Well-Dressed Daughter by Tiffany Beveridge
Book picture is for illustrative purposes only, actual binding, cover or edition may vary.
This is a used book - there is no escaping the fact it has been read by someone else and it will show signs of wear and previous use. Overall we expect it to be in very good condition, but if you are not entirely satisfied please get in touch with us.