Preferred Lies By Andrew Greig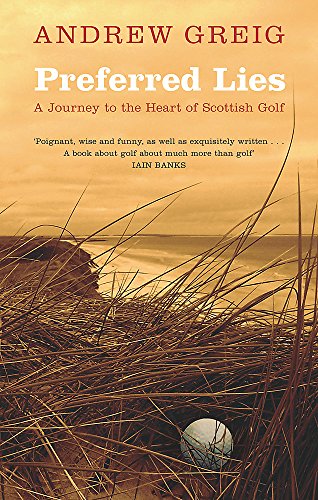 Used Price
$8.19
Free Shipping in the US
Meant to appeal to both players and non players, this is a book about golf.
Only 4 left
---
Preferred Lies Summary
---
Preferred Lies: A Journey to the Heart of Scottish Golf by Andrew Greig
'A literary sports book, Preferred Lies would be playful, personal, lyrical, tongue in cheek, elegiac, meditative, a personal and cultural exploration.' Surely golf is a game for posh people, country clubs and networking businessmen, for unfortunate sweaters, politics and trousers? Andrew Greig grew up on the East coast of Scotland, where playing golf is as natural as breathing. He sees the game as the great leveller, and has played on the Old course at St Andrews as well as on the miners' courses of Yorkshire. He writes about the different cultural manifestations of the game, the history, the geography, the different social meanings, as well as the subjective experience, the reflections between shots. He plays alone, with friends and brothers, with ghosts. The aim is to bring the reader the sense of being there, to experience the physical, emotional and intellectual, that co-existence of inner and outer worlds so characteristic of golf. He is looking for the essence of golf, the pure heart of it, which can be found, Andrew Greig believes, on the free 9 hole course on North Ronaldsay. An indispensable book for golfers and non golfers alike.
Customer Reviews - Preferred Lies
---
Why buy from World of Books
Preferred Lies Reviews
---
'Greig's purely struck prose is not the only strength of this book. For one thing he has excellent taste in golf courses.' -- Lawrence Donegan THE GUARDIAN 'one you should look out for is novelist Andrew Greig's PREFERRED LIES. To describe it as a tour of the Scottish golf courses is to do it a grave disservice, as it is really a book of 'life thinking.' -- Giles Foden CONDE NAST TRAVELLER 'If you have, or ever have had, any interest in golf, buy this book and read it. Buy it for your loved one, your lost one, the Saturday morning medal deserter ... They and you will love it, inhabit it, and possibly be transformed by it. It's the best book about golf I've ever read.' -- Tom Moreton SUNDAY HERALD PREFERRED LIES is satisfying, demanding, allusive and provocative. I finished it not merely wishing I was as good at golf as Greig, but also as good at learning from it.' -- Rick Gekoski SCOTLAND ON SUNDAY Greig..., has crafted a wonderful book about how it feels to be alive, in which the game of golf is a conduit for sensation. Here, golf isn't a metaphor for life - it is life. Sculpted in luminous prose, which echoes his work as one of Scotland's leading poets and novelists, this is a beautiful, affecting piece of work.' -- Mike Aitken THE SCOTSMAN a wonderful and wise book, quite unlike any golfing book you will have ever read before. -- Dermot Bolger THE IRISH TIMES 'Thought-provoking and moving.' -- Doug Johnstone THE LIST 'PREFERRED LIES feels like quite a special book.' -- Tom Cox THE INDEPENDENT 'Greig writes engagingly. His observations are sharp, sometimes zany.' -- Michael Lister THE TLS 'he does have an ear for the way people talk and express themselves on and off the course.' -- Ian Dunlop THE SPECTATOR 'a triumph... his beautiful prose and wry observations will keep you reading into the night.' GOLF PUNK 'The pleasure of this book is no doubt down to the fact that the author is an accomplished writer' GOLF INTERNATIONAL 'If you are looking for a seriously fine piece of writing and have a rudimentary understanding of a game which involves using a stick to hit a little white ball into a hole several hundred yards away, then PREFERRED LIES is worth reading.' -- Brackley Sumner TRIBUNE
About Andrew Greig
---
Andrew Greig was born in Bannockburn in Scotland. He is the author of six acclaimed books of poetry and five novels.
Additional information
Preferred Lies: A Journey to the Heart of Scottish Golf by Andrew Greig
Book picture is for illustrative purposes only, actual binding, cover or edition may vary.
This is a used book - there is no escaping the fact it has been read by someone else and it will show signs of wear and previous use. Overall we expect it to be in very good condition, but if you are not entirely satisfied please get in touch with us.