Threatened Landscapes By Bryn Green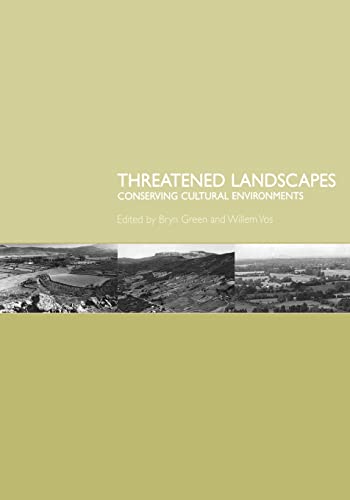 Threatened Landscapes
Used Price
$30.99
Free Shipping in the US
Threatened Landscapes is the outcome of a pilot study undertaken by the LCWG. The study assessed the feasibility of recording and documenting threatened landscapes in order to facilitate their conservation.
Only 1 left
---
Threatened Landscapes Summary
---
Threatened Landscapes: Conserving Cultural Environments by Bryn Green
Few, if any, environments are free of human intervention. Often this generates ecosystems which are rich in biodiversity, historical interest, recreational opportunity and scenic beauty just as worthy of conservation as the more natural ecosystems on which protection programmes have been almost exclusively focussed.
These 'cultural landscapes', ranging from the farm and forest lands of Europe and Eastern North America, through to the pasture lands and savannas of the Middle East and Africa to the paddylands of the Pacific Rim, are usually the product of relatively low-level, sustainable exploitation of the environment over long periods of time. Many have survived for centuries, if not millennia, but now urban expansion, depopulation of rural areas and, most damagingly, the intensification of agricultural and sylvicultural practices, are everywhere leading to a loss of their cherished biodiversity and amenity. Whilst past changes have mostly added to the valued characteristics of these landscapes, modern farming and forestry are creating sterile monocultures on the better land whilst marginal lands are being abandoned.
This book documents these changes, illustrates them through detailed case studies of a representative selection of threatened landscapes, analyses their underlying causes and explores ways by which they can continue to be maintained, or new landscapes created which maintain their desired characteristics.
Customer Reviews - Threatened Landscapes
---
Why buy from World of Books
Table of Contents
---
Foreword. Part One. What are Landscapes? Chapter 1 - Landscape Development and Change. Chapter 2 - Ecological Pattern and Process at the Landscape Scale. Chapter 3 - An Environmental Classification of European Landscapes. Part Two - Landscapes Worthy of Protection. Chapter 4 - Polders - Krimpenerward, The Netherlands. Japanese Landscapes. Chapter 5 - Mountains - Sognefjord, Norway. Mount Carmel, Israel. Atlanic Heathland, Norway. Chapter 6 - Mediterranean Islands. Gavdhos, Crete. Omalos Plain, Crete. Balearic Landscapes. Rio S Lucia, Sardinia, Chapter 7 - Coltura Promiscua (Mixed Cropping) - Solano Basin, Italy. Montado (Dehesa), Portugal. Chapter 8 - Bocage (Wooded Farmland) - Weald of Kent and Sussex, England. Tasman Peninsula Australia. Banska Stiavnica, Slovak Republic. Part Three - Landscape Conservation. Chapter 9 - Identifying Threatened Landscapes, Valued Landscapes. Chapter 10. - European Landscapes in Transition: Levels of Intervention. Chapter 11 - Managing Old Landscapes and Making New Ones.
Additional information
Threatened Landscapes: Conserving Cultural Environments by Bryn Green
Book picture is for illustrative purposes only, actual binding, cover or edition may vary.
This is a used book - there is no escaping the fact it has been read by someone else and it will show signs of wear and previous use. Overall we expect it to be in very good condition, but if you are not entirely satisfied please get in touch with us.