Nineteenth-Century Short Stories by Women By Edited by Harriet Devine Jump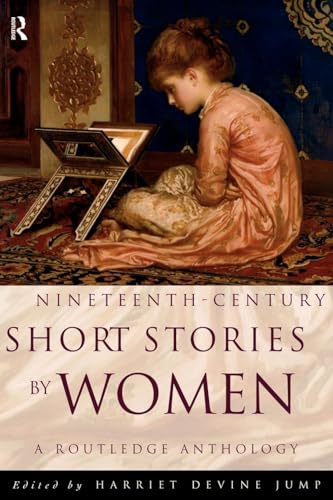 Nineteenth-Century Short Stories by Women
by Edited by Harriet Devine Jump
Brings together 28 lively and readable stories, many of which are re-published here for the first time since their original appearance. Includes fiction by Maria Edgeworth, Mary Shelley, Elizabeth Gaskell and Margaret Oliphant.
Only 1 left
---
Nineteenth-Century Short Stories by Women Summary
---
Nineteenth-Century Short Stories by Women: A Routledge Anthology by Edited by Harriet Devine Jump
This anthology brings together twenty-eight lively and readable short stories by nineteenth-century women writers, including gothic tales to romances, detective fiction and ghost stories. Containing short fiction by well-known authors such as:
* Maria Edgeworth
* Mary Shelley
* Elizabeth Gaskell
* Margaret Oliphant
Nineteenth-Century Short Stories by Women also includes:
* a scholarly introduction
* biographies for each of the authors
* full explanatory notes and suggestions for further reading
* a critical commentary, publication details and historical context
* a full and wide-ranging bibliography
The bibliography of resources and further reading will enable those interested in pursuing research on any author or topic to do so with ease, and a thematic index will enable teachers to select material best suited to their courses.
Why buy from World of Books
Nineteenth-Century Short Stories by Women Reviews
---
"A fascinating read. Generously researched and encouragingly comprehensive, this collection looks at a key period in the development of the modern short story and highlights the role that women authors--many of them forgotten--played in the exploration of the form. The range of writers is impressive: gothic, romantic, fantastic, with remarkably modern, subversive voices breaking through."
-A. L. Kennedy

About Edited by Harriet Devine Jump
---
Harriet Devine Jump is Senior Lecturer in English at Edge Hill University College. Her recent publications include Mary Wollstonecraft: Writer (1994) and Women's Writing of the Romantic Period, 1789-1836 (1997). Women's Writing of the Victorian Period, 1837-1901 will be published in 1998.
Table of Contents
---
Acknowledgements. Introduction. 1. The Limerick Gloves Maria Edgeworth 2. The Story of Sir Bertrand Anna L. Barbauld 3. Cousin Mary Mary Russell Mitford 4. The Three Damsels David Lynsay 4. Lady Evelyn Savile's Three Trials Catherine Gore 5. The Mortal Immortal Mary Shelley 6. Sefton Church Laetitia E. Landon 7. The Manchester Marriage Elizabeth Gaskell 8. Eveline's Visitant Mary Elizabeth Braddon 9. Sister Johanna's Story Amelia Edwards 10. The Mystery at Number Seven Ellen Wood 11. A Railway Journey Lady Margaret Majendie 12. The End of Her Journey Lucy Clifford 13. A Wicked Voice Vernon Lee 14. A Dream of Wild Bees Olive Schreiner 15. A Cross Line George Egerton 16. Urmi: The Story of A Queen Cornelia Sorabji 17. The Pleasure-Pilgrim Ella D'arcy 18. Suggestion Ada Leverson 19. A Correspondence Netta Syrett 20. A Knot of Ribbon Laurence Alma-Tadema 21. An Idyll in Millinery Menie Muriel Dowie 22. The Sweet o'the Year Ella Hepworth Dixon 23. Another Freak Mary Angela Dickens 24. The Other Anna Evelyn Sharp 25. Lucy Wren Ada Radford 26. Amor Vincit Omnia Flora Annie Steel 27. A Story of a Wedding Tour Margaret Oliphant References and Further Reading.
Additional information
Nineteenth-Century Short Stories by Women: A Routledge Anthology by Edited by Harriet Devine Jump
Edited by Harriet Devine Jump
Book picture is for illustrative purposes only, actual binding, cover or edition may vary.
This is a used book - there is no escaping the fact it has been read by someone else and it will show signs of wear and previous use. Overall we expect it to be in very good condition, but if you are not entirely satisfied please get in touch with us.