Peugeot 205 T16 By Graham Robson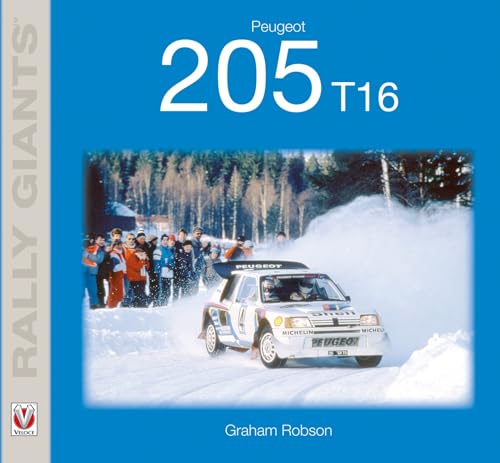 Peugeot 205 T16
Used Price
$27.99
Free Shipping in the US
Peugeot designed, developed, campaigned and won with the first truly sophisticated four-wheel-drive Group B Car - the 205 Turbo 16. This book tells the story, and lists all the cars, the influences, and the personalities behind a magnificent success story.
Out of stock
---
Peugeot 205 T16 Summary
---
Peugeot 205 T16 by Graham Robson
Four-wheel-drive was authorised in rallying from 1979, but for a time no serious car-manufacturer even tried to harness it to their cars. Soon, though, it was Audi who produced the world's first rally-winning four-wheel-drive car - the Quattro. However it was Peugeot who designed, developed, campaigned and won with the first truly sophisticated four-wheel-drive Group B Car - the 205 Turbo 16. It was the first truly great, purpose-designed, Group B car. Determined to win at almost any cost, Peugeot hired Jean Todt (who would later transform the fortunes of the Ferrari F1 organisation) in 1981, and set him an ambitious target. His dream car had to be running in 1983, homologated in 1984, and capable of winning World Championships by 1985. Nothing, no excuses and no lack of application, was to get in the way of that. Apart from being obliged to use the silhouette of the still-secret new 205 road car, Todt was able ask for anything. Getting approval for whatever he needed and fast-tracking the engineering of the four-wheel-drive rally was not an issue in reaching one simple objective victory. This is precisely what was achieved. This book tells the detailed story, and lists all the cars, the influences, and the personalities behind a magnificent success story. No sooner had the new turbocharged, transverse-mid-engined car started competing than it was ready to win, yet its dominant career was cut short at the end of 1986 by an abrupt change in rallying regulations. Not only is the engineering story laid out in great detail, but the interaction between company personalities, super-star drivers (including Ari Vatanen) and the highly-charged atmosphere of motorsport at this time is all analysed. Because Group B was cancelled even before the 205 T16 had reached maturity, it went on to have a successful career in desert Raid rallies, and at Pike Peak in the USA, all of which is described in this amazingly authoritative study. Packed with illustrations, technical details, facts, figures and successes of this innovative car this book is a must for any rally fan.
Customer Reviews - Peugeot 205 T16
---
Why buy from World of Books
Peugeot 205 T16 Reviews
---
Australian Classic Cars, April 2008
Review by Patrick Quinn
Australian magazine
Circulation: unknown

Last month, we read up on the Austin-Healey 3000 in this series of Rally Giants and now it's the turn of the Peugeot 205 T16.

While the Rally 3000 evolved from the road going version, the Peugeot was designed as a rally winner from the start. By the mid-1980s, such configurations as 4WD and mid engine were de rigueur. In the Peugeot, the turbocharged 1.8-liter 4-cylinder was mounted sideways behind the passenger - LHD car - drove across to a transaxle that in turn drove the driveshaft fore and aft.
In this publication, erudite Graham Robson makes it quite clear that he is a fan of the Peugeot, and after 3 outright wins in Peugeots in 1984, 7 in 1985 and then 6 the following year it hardly seems surprising. Robson tells the story of the development of the 205 T16, its rally history and also of those who were involved behind the wheel and navigating. What I found informative were the descriptions of the drive train through narrative and diagrams and the lengths Peugeot engineers went to ensure that servicing was as straightforward as possible during the course of a rally. Worth a look for rallying and Peugeot enthusiasts.
Peugeotex, November 2007
Club magazine for the Peugeot Car Club of Auckland
The 'Peugeot 205 T16' written by Graham Robson was published this year by Veloce Publishing Ltd as part of a series on 'Rally Giants'.
It is a well written book, liberally and well illustrated with both diagrams and superb photos. He has put the history of the 205 T16 in the context of the time, the new Group B regulations and the contemporary competition.
The book covers the goals, development, problems and achievements of the rally car. A chronological account is included of their World Rally successes in the years 1984-86. Nor is the human side overlooked. There are biographical sketches of the main people involved in the design, the development and the driving.
It is a very readable book, worth adding to your library - and worth looking at other books he has written in the series.
UK magazine
Latest offering in Veloce's Rally Giants series is Graham Robson's effort on the Peugeot 205 T16. Costing $29.95, the book runs to 130 pages packed with pictures and data on the iconic four-wheel-drive Group B car, and follows similar titles on Quattro, Impreza, Stratos, Austin-Healey and Escort.
About Graham Robson
---
Graham Robson possesses a worldwide reputation as a motoring historian, and has been close to the sport of rallying for many years, as a competitor, team manager, organiser, reporter, commentator and observer; in more than forty years he has never lost touch with the sport. Not only has Graham competed in many British and European events, he's also reported on marathons in South America, and acted as a travelling controller in the legendary London-Mexico World Cup Rally. As a recognised authority on many aspects of classic cars and motoring of that period, he is the most prolific of all authors, with more than 120 published books to his credit. Over the years he has owned, driven, described and competed in many of the cars featured in this Rally Giants series, and his insight into their merits is unmatched.
Table of Contents
---
Foreword Introduction The car and the team -Inspiration - The Peugeot's importance in rallying - Facing up to rival cars - Timetable - a tight schedule - Homologation - meeting the rules - Engineering features - Peugeot's new M24 project - FF Developments - four-wheel drive specialists - Group B rallying - Second evolution car - The 205 road car - Was the 205 T16 unique? - Building and running the works cars - Intensive use of cars - Personalities and star drivers Competition story - 1983 - 1984 - Previous Peugeot rally cars - Peugeot 16-valve engines - 1985 - Evolution 2 time - 1986 - Four-wheel drive - 2E-The Coventry connection - The 205 T16's successor World Rally success Works Rally cars and when first used Index
Additional information
Peugeot 205 T16 by Graham Robson
Book picture is for illustrative purposes only, actual binding, cover or edition may vary.
This is a used book - there is no escaping the fact it has been read by someone else and it will show signs of wear and previous use. Overall we expect it to be in very good condition, but if you are not entirely satisfied please get in touch with us.