Underground By Haruki Murakami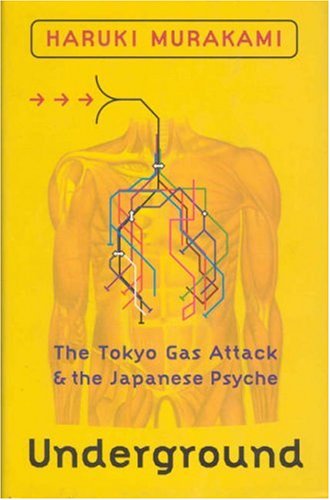 Underground
Used Price
$145.99
Free Shipping in the US
A many-layered account of the Tokyo subway gas attack in 1995, in which 12 people died, as told to Murakami by the survivors and the Aum cult members responsible. Out of the 3800 victims, Murakami tracked down only 60 willing to be interviewed.
Only 3 left
---
Underground Summary
---
Underground: The Tokyo Gas Attack and the Japanese Psyche by Haruki Murakami
Monday, 20 March 1995. It is a clear spring morning. You get up at the normal time, wash, dress, breakfast, and head for the subway. You board the train, crowded as usual. Nothing out of the ordinary. It promises to be a run-of-the-mill day. You don't notice, but as he is about to leave the carriage a man drops a plastic bag to the floor and punctures it with the sharpened tip of his umbrella, releasing an invisible cloud of deadly nerve gas. On other trains at the same time four accomplices, all members of a doomsday cult, are doing the same...The Tokyo Gas Attack left twelve people dead and over thousands injured; many suffering from after-effects such as blindness, memory loss and paralysis as a consequence of inhaling sarin gas. Japan's leading novelist, Haruki Murakami, both horrified and fascinated by this apparently senseless act, has interviewed as many of the victims as were willing to talk to him in order to establish precisely what happened on the Tokyo subway that day. In Underground the survivors recount their thoughts and feelings at the time, marvel at the slow response of the emergency services, and reveal how the attack has changed their view of society. We are left with a sense not only of the nightmarish quality of the assault, but also of something amiss in Tokyo itself, perhaps in modern city life everywhere. In the second half of the book, Murakami interviews members of the Aum Shinrikyo (Supreme Truth) cult, in the hope that they might be able to explain how their guru, Shoko Asahara, instilled such devotion in his followers and why he resorted to terrorism.
Customer Reviews - Underground
---
Why buy from World of Books
Additional information
Underground: The Tokyo Gas Attack and the Japanese Psyche by Haruki Murakami
Book picture is for illustrative purposes only, actual binding, cover or edition may vary.
This is a used book - there is no escaping the fact it has been read by someone else and it will show signs of wear and previous use. Overall we expect it to be in very good condition, but if you are not entirely satisfied please get in touch with us.