Bilbo's Last Song By J. R. R. Tolkien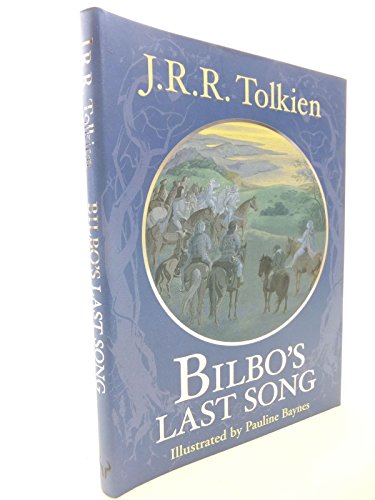 Bilbo's Last Song
by J. R. R. Tolkien
Contains paintings in full colour depicting fabulous scenes from "The Lord Of The Rings" and "The Hobbit". This work includes artist's notes and references on the inspiration for the illustrations.
11 in stock
---
Bilbo's Last Song Summary
---
Bilbo's Last Song by J. R. R. Tolkien
Ship, my ship! I seek the west,and fields and mountains ever blest. Farewell to Middle-earth at last,I see the Star above your mast!! Bilbo's Last Song is a poem written by Bilbo, hero adventurer of The Hobbit, before he leaves Middle Earth to take a ship to the Undying Lands beyond the sunset at the end of The Lord of the Rings. Pauline Baynes magical, jewel-like illustrations depict the journey that brings the ring bearers and the company of elves to The Grey Havens and the ship that is waiting to take them on their final journey. Running concurrently is a series of vignettes showing scenes from The Hobbit; so Bilbo remembers his first journey as he contemplates his last. A friend of the author's for many years, Pauline Baynes has included several of Tolkien's own ideas in her portrayal of the characters and scenes. The Lord of the Rings, the book of the 20th Century has been acclaimed as the motion picture event of the 21st Century - a groundbreaking epic of good versus evil, extraordinary heroes, wondrous creatures and dark armies of terror. The extraordinary success of this film has brought Tolkien and his world to the forefront of public consciousness worldwide.
Why buy from World of Books
Bilbo's Last Song Reviews
---
"A must for all fans of Tolkien's vast, epic fantasy" -- "Publishers Weekly"
About J. R. R. Tolkien
---
J. R. R. Tolkien was born in 1892 in Bloemfontein, South Africa. From 1925-1959 he was an Oxford Professor, first of Anglo Saxon and then of English Language and Literature, but is best known as the author of the fantasy classic The Lord of the Rings. Pauline Baynes was born in Hove, Sussex and studied at Farnham School of Art. As well as being Tolkien's favourite illustrator (she illustrated several of his books including Farmer Giles of Ham and The Adventures of Tom Bombadil) she was also chosen by C. S. Lewis to illustrate the Narnia books. She lives in Farnham, Surrey.
Additional information
Bilbo's Last Song by J. R. R. Tolkien
Random House Children's Publishers UK
Book picture is for illustrative purposes only, actual binding, cover or edition may vary.
This is a used book - there is no escaping the fact it has been read by someone else and it will show signs of wear and previous use. Overall we expect it to be in very good condition, but if you are not entirely satisfied please get in touch with us.