Brilliant Troubleshooting & Repairing your PC By John Taylor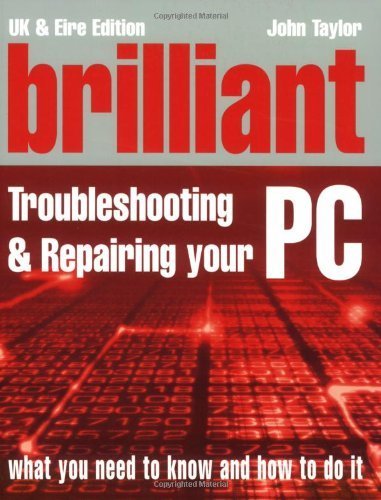 Brilliant Troubleshooting & Repairing your PC
by John Taylor
This is a guide to mastering your computer, understanding its digital temperament and making your experience of working together less unpredictable.
Only 1 left
---
Brilliant Troubleshooting & Repairing your PC Summary
---
Brilliant Troubleshooting & Repairing your PC by John Taylor
We have all experienced the frustrations of being over-dependent upon technology we don't fully understand. Unexpected crashes wasting hours of concentrated work, inexplicable error codes flashing at you just when you need to print off a document in a hurry, the nagging feeling of impending disaster when you haven't backed up. This book hails an end to that sinking feeling you get whenever you wonder who is in control you or the computer. From now on you will be a confident, virtual-spanner-wielding technician ready and able to deal with (nearly) anything your digital assistant throws at you. Combining a first aid manual with advice on preventative medicine and detailed instructions on emergency response routines this book will be your indispensable companion.
Why buy from World of Books
About John Taylor
---
John Taylor is an experienced Editor who has spent 20 years working on home computer and technology titles for various magazine publishers. He has edited 19 magazine titles and edited and complied many books including Windows for beginners. He conceived and launched PDA Essentials and Windows Made Easy which spawned the Made Easy' brand that defines the beginners magazine market. He also launched and edited PC First Aid, Digital Video Made Easy, Practical PC and launched GigaHz Magazine. He has also worked on Which PC. He has held the posts of Editor, Group Editor, Managing Editor, Publisher and Editorial Director. The tutorial format of the magazines and their audience profile (beginner to intermediate users) mean that John has plentiful experience explaining complicated subjects in clear and concise English, compiling step-by-step tutorials and selecting topics that are of interest to the general reader. He is a professional writer with in-depth knowledge of all the latest trends and developments in computer technology.
Table of Contents
---
1) Basic problems explained. (4) Introduction Can anyone fix common PC problems? Explain the two basic types of problems: Hardware and Software TASK: What to look for to give you a clue BOXOUT: Can you fix your PC Yes! Can you permanently break your PC No! 2) Inside a PC: Know what you're looking at (12) Introduction Explain all PC layouts are basically the same, why and how this helps you. BOXOUT: Cut away annotated diagram showing PC components BOXOUT: Cut away annotated diagram showing Mother board Show and explain the connections to motherboard and point out jumper switches. Different types of card, different slots. 3) Inside XP (20) Introduction What is XP and what does it do? BOXOUT: annotated main screen TASK: How to find which version of XP you have TASK: Using XP built in help TASK: Using control panel TASK: Using Automatic Updates 4) Preventing Problems (18) Introduction Regular backups will prevent you losing previous data - imagine losing all your digital photos for 2004! TASK: Backing up TASK: Using system restore TASK: Using commercial backup BOXOUT: Online backup BOXOUT: Storage types 5) Dealing with Computer crashes: Don't reach for the off switch (10) Introduction What is a crash? TASK: shutting down a crashed program TASK: Using Microsoft Knowledge Base TASK: dealing with the consequences of a crash. Tiding up BOXOUT: Getting support BOXOUT: Is this a common problem? Consulting Frequently Asked Questions 6) Startup problems (23) Introduction What's happing? BOXOUT: Flow chart - what's happing when you switch on TASK: Listen to beeps and find out what do the beeps mean? How the PC can tell you what's wrong. TASK: Starting Windows in diagnostic mode: Get windows started when normal Windows won't. TASK: Using system restore to return to a point before the problem TASK: Using Go Back to restore the complete system to a point in time before the problem, this will even fix virus infections TASK: Stopping problem programs from running at startup msconfig BOXOUT: Posttest beeps 7) Fix BIOS problems (12) Introduction TASK: How to look at the BIOS BOXOUT: Understanding what's in the BIOS TASK: Changing BIOS settings TASK: Resetting to Factory defaults 8) Memory (12) Introduction TASK: Basic checks for memory faults TASK: Tracking down the faulty chip by process of elimination TASK: Changing Memory BOXOUT: Memory Types explained BOXOUT: Memory suppliers 9) Hard drives (22) Introduction TASK: What to do when you drive is full TASK: Speeding up a tired drive TASK: What to do if disaster strikes and the drive fails BOXOUT: Data recovery companies BOXOUT: Commercial Software 10) CDROM/DVD (10) Introduction TASK: Cleaning the drive TASK: Cleaning discs TASK: Checking configuration 11) Video Display (10) Introduction TASK: Changing resolutions TASK: Changing looks TASK: What to do if the monitor is blank 12) Fixing deliberate damage (18) Introduction TASK: Dealing with a virus TASK: Removing spyware BOXOUT: Coping with Spam BOXOUT: Top 5 spam tips BOXOUT: Top Virus websites/packages 13) Data Recovery (22) Introduction TASK: Finding lost files TASK: Using the recycle bin TASK: Using your backup TASK: Undeleting files 15) Reinstalling Windows (18) Introduction TASK: Preparing for a reinstall TASK: Using CD as boot drive TASK: Installing Windows 16) Common sense (11) Introduction TASK: Check connections TASK: Check Drives TASK: Check Sound system 17) Error codes (10) Introduction BOXOUT: Understanding what the computer is trying to tell you when things go wrong TASK: Responding to error codes 18) Technical support (10) Introduction TASK: Get help online BOXOUT: List of the best online sites to try and where to look Glossary: (6 pages) Online Resources Web sites mentioned in the book (4 pages) Jargon Buster Technical jargon explained (4 pages) Troubleshooting Guide (4 pages)
Additional information
Brilliant Troubleshooting & Repairing your PC by John Taylor
Book picture is for illustrative purposes only, actual binding, cover or edition may vary.
This is a used book - there is no escaping the fact it has been read by someone else and it will show signs of wear and previous use. Overall we expect it to be in very good condition, but if you are not entirely satisfied please get in touch with us.