The Psychopath Whisperer By Kent Kiehl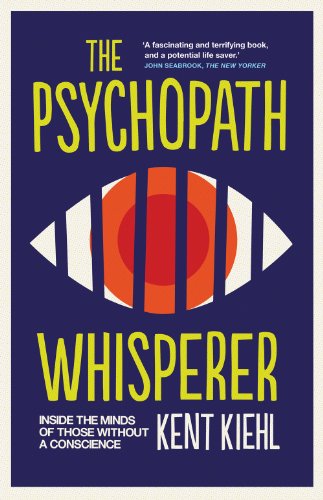 The Psychopath Whisperer
Used Price
6,99 $
Free Shipping in the US
A chilling and provocative scientific dissection of the psychopath's brain
5 in stock
---
The Psychopath Whisperer Summary
---
The Psychopath Whisperer: Inside the Minds of Those Without a Conscience by Kent Kiehl
A chilling and provocative scientific dissection of the psychopath's brain
Fact: A psychopath is 6 times more likely to commit a new crime after release from prison.
Fact: Some forms of group therapy make psychopaths more likely to commit a new crime compared to no treatment at all.
Fact: A psychopath is born every 47 seconds.
Kent Kiehl is the 'Psychopath Whisperer', a neuroscientist who has dedicated his career to understanding what makes a mind turn criminal. Are psychopaths 'evil' and untreatable, or do they suffer from a mental illness comparable to schizophrenia or epilespsy? Do they - do we - have free will? Based on breathtaking research, including personality surveys and brain imaging scans of thousands of criminals, Kiehl pinpoints the biological machinery of psychopathy - and offers a radical new perspective on identifying & treating the psychopaths in our midst.
Customer Reviews - The Psychopath Whisperer
---
Why buy from World of Books
The Psychopath Whisperer Reviews
---
'A fluid, engaging narrative' * BBC Focus *
'It is rare to find an accessible book on the subject by a researcher who is an acknowledged leader in the field. Kent Kiehl is the exception to the rule... infectious... an insightful and memorable look into the troubled minds of people with psychopathy' * THES *
'A world-renowned researcher of psychopaths delves into the origins of their behaviour, especially as it relates to the inner workings of the brain...Navigates these issues and more with compassion and insight. Fast-paced and thrilling.' * Kirkus Reviews *
'A fascinating and terrifying book, and a potential life saver.' -- John Seabrook * The New Yorker *
'A must read! Dr Kiehl's research formed the backbone of my work in analysing the behavioural signature of a psychopath left behind at the crime scene ... Don't trust your gut about this disorder - learn about it from one of the foremost experts in the field.' -- Mary Ellen O'Toole, Special Agent (retired), Behavioural Analysis Unit, FBI
'What sets this book apart is the combination of an accessible overview of the cutting-edge science and compelling and authentic portrayal of what individuals with psychopathy are really like.' -- Essi Viding, Professor of Developmental Psychopathology, University College London
'A renowned neuroscientist provides us with a fascinating account of his personal journey into the mind of the psychopath.' -- Robert D. Hare, author of Without Conscience
'In this superb book written by one of the pioneers in this fi eld, Kent Kiehl explores what is different about the brains of psychopaths. This is a clear, accessible account of the science and, in addition, an appealing personal story of how Kiehl has gone about his unique science.' -- Robert Sapolsky, Professor of Neurology and Neurological Sciences, Stanford University
'An exhilarating exploration into the lives, minds and emotions of criminal psychopaths by one of the leading researchers in the field. This lively and engaging narrative not only educates the reader on the internal machinations of the psychopath, but also takes us through Kiehl's own life journey of scientific discovery. It's an irresistible read that is hard to put down. Even after decades of my own research I found myself learning new perspectives on the psychopath. Serious, witty, saddening and beguiling, The Psychopath Whisperer yells out as a "must read" for anyone interested in those without conscience.' -- Adrian Raine, professor of Criminology, Psychiatry, and Psychology, University of Pennsylvania
'The fascinating story of how Kent Kiehl, a remarkably energetic and accomplished scientist, used functional magnetic resonance imaging (fMRI) and a mobile brain scanner to examine the brains of more psychopathic prisoners than anyone in the world and characterize their dysfunction. Filled with entertaining anecdotes of psychopaths in prison, research collaborations, and scientific discovery, the book discusses the ramifications of his findings to the criminal system and to the treatment of psychopathic juvenile delinquents. An eye-opening read!' -- Dr Joseph Newman, professor of Psychology, University of Wisconsin, Madison
About Kent Kiehl
---
Dr Kent Kiehl is Professor of Psychology, Neuroscience and Law at the University of New Mexico. The author of more than 100 scientific articles published in peer-reviewed journals, he has also been featured in media ranging from The New Yorker to Nature. He is also Executive Science Officer at the non-profit Mind Research Network, which explores the use of imaging (fMRI) in understanding mental illnesses. He lives in Albuquerque.
Additional information
The Psychopath Whisperer: Inside the Minds of Those Without a Conscience by Kent Kiehl
Book picture is for illustrative purposes only, actual binding, cover or edition may vary.
This is a used book - there is no escaping the fact it has been read by someone else and it will show signs of wear and previous use. Overall we expect it to be in very good condition, but if you are not entirely satisfied please get in touch with us.