Dragonlance Chronicles By Margaret Weis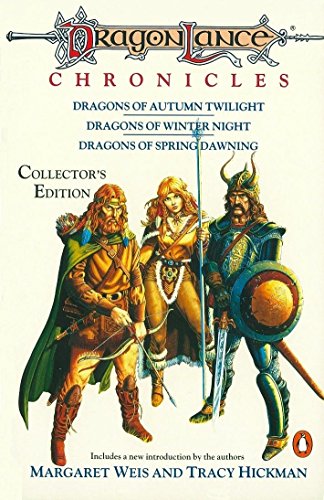 Dragonlance Chronicles Summary
---
Dragonlance Chronicles: Dragons of Autumn Twilight, Dragons of Winter Night, Dragons of Spring Dawnin by Margaret Weis
More than three million readers have witnessed the return of the dragons... And now the books that began the best-selling "dragonlance" saga are collected in their entirety in this special edition, along with all of the artwork from the trilogy. This splendid collector's edition is a must for the millions of readers who fell in love with the fantasy world of Krynn.
Why buy from World of Books
About Margaret Weis
---
Date- 2013-08-06
Born in Independence, Missouri, Margaret Weis graduated from the University of Missouri and worked as a book editor before teaming up with Tracy Hickman to develop the Dragonlance novels. Margaret lives in a renovated barn in Wisconsin with her daughter, Elizabeth Baldwin, and her three cats. She enjoys reading (especially Charles Dickens), opera and rollerskating.

Born in Salt Lake City, Tracy Hickman resides in Wisconsin in a 100-year-old Victorian home with his wife and four children. When he isn't reading or writing, he is eating or sleeping. On Sundays, he conducts the hymns at the local Mormon church.

Margaret Weis is the award-winning co-creator and co-author of the bestselling Dragonlance, Darkswood, and Death Gate sagas. The Dragonlance trilogies have been translated into many languages, including German, Japanese, Danish, Finnish, Spanish, French, Italian, Hebrew, Hungarian, Chine and Portuguese, and have sold more than 20 million copies.In total, Weis has written over 30 books. Other published fantasy works include Rose of the Prophet and the Sovereign Stone trilogy. Science fiction titles include he own series, Star of the Guardian, and the Mag Force 7 series.Weis lives in Williams Bay, Wisconsin, and has recently completed the second book in the Dragonvarld, The Dragon's Son.
Additional information
Dragonlance Chronicles: Dragons of Autumn Twilight, Dragons of Winter Night, Dragons of Spring Dawnin by Margaret Weis
Book picture is for illustrative purposes only, actual binding, cover or edition may vary.
This is a used book. We do our best to provide good quality books for you to read, but there is no escaping the fact that it has been owned and read by someone else previously. Therefore it will show signs of wear and may be an ex library book.