The Suffragette Derby By Michael Tanner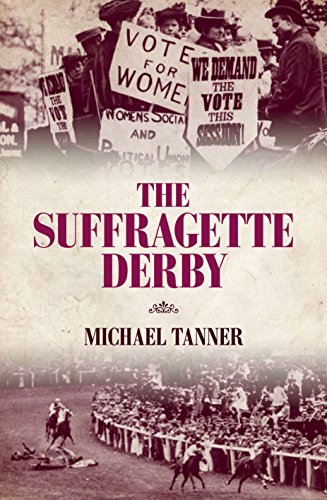 The Suffragette Derby
by Michael Tanner
Released to mark the one hundredth anniversary of the Suffragette Derby, this is British social history at its best.
6 in stock
---
The Suffragette Derby Summary
---
The Suffragette Derby by Michael Tanner
On Wednesday 4 June 1913, fledgling newsreel cameras captured just over two-and-a-half minutes of never-to-be-forgotten British social and sporting history.The 250,000 people thronging Epsom Downs carried with them a quartet of combustible elements: a fanatical,publicity-hungry suffragette; a scapegoat for the Titanic disaster and the pillar of the Establishment who bore him a personal grudge; a pair of feuding jockeys at odds over money and glory; and, finally, at the heart of the action, two thoroughbred horses - one a vicious savage and one the consummate equine athlete. Taken together, this was a recipe for the most notorious horse race in British history. One hundred years on, this particular Derby Day is remembered for two reasons: the fatal intervention of Emily Davison, a militant suffragette who brought down the King's runner, and the controversial disqualification of Bower Ismay's horse Craganour on the grounds of rough riding - the first and only time a Derby-winner has forfeited its title for this reason. The sensation of Davison's questionable interference in the name of suffrage has overshadowed the outrage of Craganour's disqualification and the intricate reasons behind it. Now, with a view to allowing this scandal the attention it deserves, Michael Tanner replays the most dramatic day in Turf history - and finally uncovers the truth of the Suffragette Derby.
Why buy from World of Books
The Suffragette Derby Reviews
---
'Davidson is just one in a rich cast of villains, millionaires and eccentrics who appear in Tanner's meticulously researched book - as good as any Dick Francis novel, and all the stronger for being based in fact' Mail on Sunday 'For drama, tragedy, controversy and intrigue, there has never been another race like the 1913 Derby... and the events of that day 100 years ago are examined in detail in Michael Tanner's excellent new book... The 1913 Derby remains the most fascinating and elusive of contests, and Tanner weaves its many strands into a compelling narrative that make it racing's book of the year.' Racing Post 'I am currently reading the tome and can thoroughly recommend it.' Guardian Sports 'The mix of tragedy, rancour and resentment is cleverly exposed by Tanner whose painstaking research produces some fascinating moments...It all makes for a fascinating tale told beautifully by Tanner in a very readable style. Racing enthusiasts need not be concerned that the book deals principally with the suffragette movement - there is much here to enjoy and to learn about racing in the Edwardian era.' Kingsley Klarion 'An impeccably researched interweaving of real-life racing thriller with social history.' The Spectator 'Tanner has put together a gripping book and also a most valuable social history of a time well gone.' The Irish Field 'Tanner has examined all the interlinking events in forensic fashion in a landmark book, the Suffragette Derby - the research that Tanner must have put into the book was exhaustive but it was well worthwhile - this book is a huge contribution to turf literature and a compulsive read.' Blackpool Gazette 'Michael Tanner has scoured public and private sources, drawing on unpublished diaries and interviews with descendants of the principals, to provide a definitive account of what led to the events of that day and how they unfolded - In a Channel 4 documentary earlier this year, Clare Balding attempted to make a case for her so doing. Tanner's evidence is far more convincing - Tanner is an acclaimed racing writer - His near forensic examination of the facts and his analysis of events, make this a thoroughly absorbing read.' Bookmakers Office Supplies
About Michael Tanner
---
Michael Tanner is a critically acclaimed sports writer, specialising in racing. He has written more than twenty titles and his 2003 book, The Legend of Mick the Miller, was a leading contender for the William Hill Sports Book of the Year and was short-listed for the NSC Sports Biography of the Year. He also has one volume of history to his credit and his debut novel, The Tinman's Farewell, appeared in 2010. In addition to authoring books he has contributed numerous features to various magazines and to Channel 4 Racing.
Additional information
The Suffragette Derby by Michael Tanner
Book picture is for illustrative purposes only, actual binding, cover or edition may vary.
This is a used book - there is no escaping the fact it has been read by someone else and it will show signs of wear and previous use. Overall we expect it to be in very good condition, but if you are not entirely satisfied please get in touch with us.