The Crime of Aggression By Noah Weisbord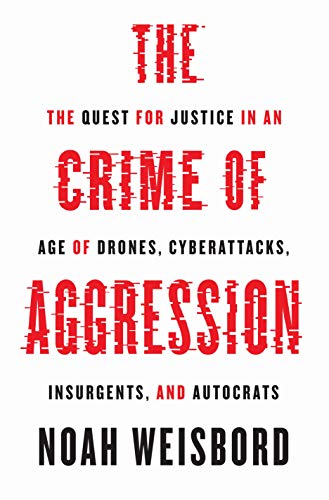 The Crime of Aggression
N/A
Only 1 left
---
The Crime of Aggression Summary
---
The Crime of Aggression: The Quest for Justice in an Age of Drones, Cyberattacks, Insurgents, and Autocrats by Noah Weisbord
A gripping behind-the-scenes account of the dramatic legal fight to hold leaders personally responsible for aggressive war
On July 17, 2018, starting an unjust war became a prosecutable international crime alongside genocide, crimes against humanity, and war crimes. Instead of collective state responsibility, our leaders are now personally subject to indictment for crimes of aggression, from invasions and preemptions to drone strikes and cyberattacks. The Crime of Aggression is Noah Weisbord's riveting insider's account of the high-stakes legal fight to enact this historic legislation and hold politicians accountable for the wars they start.
Weisbord, a key drafter of the law for the International Criminal Court, takes readers behind the scenes of one of the most consequential legal dramas in modern international diplomacy. Drawing on in-depth interviews and his own invaluable insights, he sheds critical light on the motivations of the prosecutors, diplomats, and military strategists who championed the fledgling prohibition on unjust war-and those who tried to sink it. He untangles the complex history behind the measure, tracing how the crime of aggression was born at the Nuremberg trials only to fall dormant during the Cold War, and he draws lessons from such pivotal events as the collapse of the League of Nations, the rise of the United Nations, September 11, and the war on terror.
The power to try leaders for unjust war holds untold promise for the international order, but also great risk. In this incisive and vitally important book, Weisbord explains how judges in such cases can balance the imperatives of justice and peace, and how the fair prosecution of aggression can humanize modern statecraft.
Why buy from World of Books
The Crime of Aggression Reviews
---
"Noah Weisbord has written as masterful an account of the century of legal toil dedicated to corralling the human urge to wage war as has yet found two covers . . . . Weisbord's work is that rarest of writings on legal matters: a kind of Decameron, a thoughtfully interconnected set of what might well be abstruse concepts, but told as a series of parables, apercus, and case studies."---Brendan Howley, Literary Review of Canada
"A remarkable insider's account of the historical efforts to criminalize wars of aggression."---Payam Akhavan, Global Justice Journal
"[This] insightful book . . . offers a valuable and provocative thesis . . . . The time is ripe to align with thinkers such as Weisbord, who advance a bold step forward for the restoration of relative peace rather than descend in a hopeless spiral of endless, grievous aggression against fellow human beings."---Shelley Walia, Frontline
About Noah Weisbord
---
Noah Weisbord is associate professor of law at Queen's University in Canada and served on the International Criminal Court's working group that drafted the crime of aggression. He lives in Kingston, Ontario.
Additional information
The Crime of Aggression: The Quest for Justice in an Age of Drones, Cyberattacks, Insurgents, and Autocrats by Noah Weisbord
Human Rights and Crimes against Humanity
Princeton University Press
Book picture is for illustrative purposes only, actual binding, cover or edition may vary.
This is a used book - there is no escaping the fact it has been read by someone else and it will show signs of wear and previous use. Overall we expect it to be in very good condition, but if you are not entirely satisfied please get in touch with us.