More Grammar Games By Paul Davis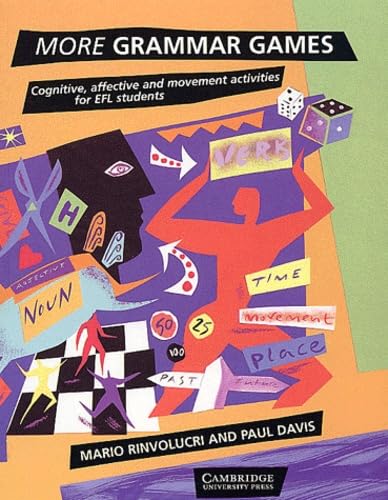 More Grammar Games
Cognitive, affective and drama activities for EFL students
Only 3 left
---
More Grammar Games Summary
---
More Grammar Games: Cognitive, Affective and Movement Activities for EFL Students by Paul Davis
Cognitive, affective and drama activities for EFL students This resource book for teachers contains an exciting collection of activities which present and practise vital grammatical content in an original way. Each game is clearly introduced with a summary specifying the area of grammar to be practised, the level it is aimed at, the time required and the material needed. The activity is then presented using a step-by-step approach.
Why buy from World of Books
More Grammar Games Reviews
---
'The book has given me a lot of new ideas and I am going to make use of the book as soon as possible ... More Grammar Games is an excellent teaching resource and any school that has abandoned old fashioned models on drill and translation should own at least one copy of the book.' English Teachers' Newsletter, Czech Rep
'More Grammar Games is a very important resource book for EFL/ESL teachers who would like to develop their own bank of activities.' VATME Newsletter No 63, 1996
'More Grammar Games recently appeared in our staff room for ESL teacher's perusal. It was commandeered by those who were lucky enough to get it first, and when it was requested to be passed on to other teachers, the parting was reluctant. But not for long. Those teachers have now bought their own copies ... This book is highly recommended.' Australian Language Matters, Vol 4, N 1, 1996
Table of Contents
---
INTRODUCTION; SECTION 1 COMPETITIVE GAMES 1.1 Betting on grammar horses; 1.2 Happy grammar families; 1.3 Grammar Reversi; 1.4 Three from six grammar quiz; 1.5 Present perfect love story; 1.6 Spoof; 1.7 Student created text; 1.8 Speed; 1.9 I challenge; 1.10 The triangle game; SECTION 2 COGNITIVE GAMES (SILENT WAY) 2.1 One becomes two; 2.2 Mind-reading; 2.3 Weed-read; 2.4 Don't 'she' me; 2.5 Final word; 2.6 DIY word order; 2.7 Body tense map; 2.8 Shunting words; 2.9 Mending sentences; 2.10 Hinged sentences; 2.11 Spot the differences; 2.12 Self-generated language; SECTION 3 FEELINGS AND GRAMMAR 3.1 Achievements; 3.2 Typical questions; 3.3 Did you write that?; 3.4 Who wrote what about me?; 3.5 In-groups and out-groups; 3.6 Verbs for extroverts; 3.7 To versus ing; 3.8 Telling people what they feel; 3.9 Reported advice; 3.10 Impersonating members of a set; 3.11 Choosing the passive; 3.12 A sprinkling of people; 3.13 Us lot; 3.14 Lack; 3.15 Haves and have nots; 3.16 Picture the past; 3.17 Passive verbs; SECTION 4 LISTENING TO PEOPLE (GRAMMAR IN A COUNSELLING FRAME) 4.1 Whose am I?; 4.2 No backshift; 4.3 Incomparable; 4.4 Round the circle; 4.5 Eyes shut; 4.6 One question behind; 4.7 Intensive talk; 4.8 Two against the group; SECTION 5 MOVEMENT AND GRAMMAR 5.1 Real time; 5.2 Sit down then; 5.3 Do you like your neighbours' words?; 5.4 Turn round quick; 5.5 Only if ...; 5.6 Future chairs; 5.7 If + present perfect; 5.8 If you had the chance; 5.9 Moving ludo (Pashisi); SECTION 6 MEANING AND TRANSLATION 6.1 Iffy sentences; 6.2 Two-faced sentences; 6.3 Grammar homophones; 6.4 Written conversations; 6.5 The world of take; 6.6 Coherence poems; 6.7 Two-word verbs; SECTION 7 PROBLEM SOLVING 7.1 The woman on the roof; 7.2 Umbrella; 7.3 Eyes; 7.4 A dictionary game; 7.5 Near future seen from distant future; SECTION 8 CORRECTION 8.1 Just a minute; 8.2 Correction letters; 8.3 Reformulation; 8.4 Mistakes mirror; 8.5 Hand on hand; SECTION 9 PRESENTATION 9.1 Listening to time; 9.2 Guess the sentence; 9.3 Grammar letters; 9.4 'The' and 'a'; 9.5 Word order dictation; 9.6 Guess my grammar; 9.7 Teacherless task; 9.8 Puzzle stories; BIBLIOGRAPHY.
Additional information
More Grammar Games: Cognitive, Affective and Movement Activities for EFL Students by Paul Davis
Cambridge University Press
Book picture is for illustrative purposes only, actual binding, cover or edition may vary.
This is a used book - there is no escaping the fact it has been read by someone else and it will show signs of wear and previous use. Overall we expect it to be in very good condition, but if you are not entirely satisfied please get in touch with us.