One World By Peter Singer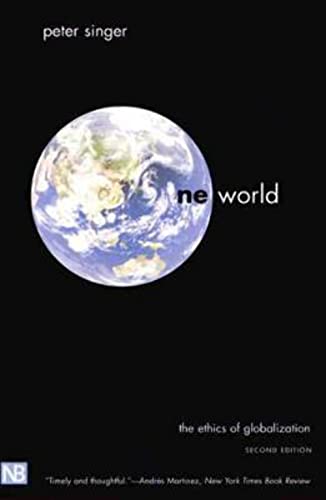 One World
by Peter Singer
Known for his original and courageous thinking on matters ranging from the treatment of animals to genetic screening, Peter Singer now turns his attention to the ethical issues surrounding globalisation.
Only 4 left
---
One World Summary
---
One World: The Ethics of Globalization, Second Edition by Peter Singer
One of the world's most influential philosophers here considers the ethical issues surrounding globalization. Peter Singer discusses climate change, the role of the World Trade Organization, human rights and humanitarian intervention, and foreign aid, showing how a global ethic rather than a nationalistic approach can provide illuminating answers to important problems.
The book encompasses four main global issues: climate change, the role of the World Trade Organization, human rights and humanitarian intervention, and foreign aid. Singer addresses each vital issue from an ethical perspective and offers alternatives to the state-centric approach that characterizes international theory and relations today. Posing a bold challenge to narrow or nationalistic views, Singer presents a realistic, new way of looking at contemporary global issues-through a prism of ethics.

Why buy from World of Books
One World Reviews
---
"Timely and thoughtful. . . . A refreshing intellectual integrity in Singer's efforts to assess the facts on the ground."-Andres Martinez, New York Times Book Review

"Peter Singer may be the most controversial philosopher alive; he is certainly among the most influential."-New Yorker
"In just over 200 pages, Singer, now based at Princeton University in the U.S., delivers a mind-punching summary of the central dilemmas of living in an increasingly global society. With clarity and intellectual rigour, he examines the implications of a globalized economy, the role of the World Trade Organization, the need for universal standards of justice and democracy and how they might be applied, threats to the environment, and how we might make the world a better place for the billions who live in absolute poverty. His practical suggestions are often confronting, but are invariably derived from pristine logic, and are delivered with wit and passion. Given that the `one world' of his title is irrevocably upon us, this is an indispensable book for the thinking reader in a post-September 11 world: challenging, fascinating, and ultimately empowering."-Andrew Wilkins, Australian Bookseller & Publisher
"[Singer] is in the tradition of the good humanist thinkers who challenge the conventional wisdom, as Socrates would want any philosopher and scholar to do."-Tor Hundddloe, Courier-Mail

Selected as an outstanding book by University Press Books for Public and Secondary School Libraries

"With One World, Professor Singer has written an informed, provocative book that should open up our eyes to the ethical problems of globalization. His clear and elegant style makes the work accessible to philosophers and students alike. One student commented to me that this was 'the best book she read in college.'"-Lisa M. Cassidy, Assistant Professor of Philosophy, Ramapo College
"Many people have written about the economic meaning of globalization; in One World Peter Singer explains its moral meaning. His position is carefully developed, his tone is moderate, but his conclusions are radical and profound. No political theorist or moral philosopher, no public official or political activist, can afford to ignore his arguments."-Michael Walzer

"Few issues are more critically in need of ethical assessment than globalization. When a leading ethicist like Singer addresses globalization, we all should listen very carefully."-Paul R. Ehrlich, Bing Professor of Population Studies; President, Center for Conservation Biology; Department of Biological Sciences, Stanford University, author of Human Natures: Genes, Cultures, and the Human Prospect, coauthor of Wild Solutions
"Singer has brought to the issue of globalization a lot of insight, powerful analysis and prescription, often cogently expressed and reflective of his erudition, which is clearly both broad and deep."-Strobe Talbott, director, Yale Center for the Study of Globalization
"Peter Singer writes, as always, lucidly and with relentless logic. Getting states to behave ethically is a heroic aspiration, but this book will give even the most obdurate realist much to think about."-Gareth Evans, President, International Crisis Group, former Australian Foreign Minister

About Peter Singer
---
Peter Singer is Ira W. DeCamp Professor of Bioethics, University Center for Human Values, Princeton University.

Additional information
One World: The Ethics of Globalization, Second Edition by Peter Singer
Book picture is for illustrative purposes only, actual binding, cover or edition may vary.
This is a used book - there is no escaping the fact it has been read by someone else and it will show signs of wear and previous use. Overall we expect it to be in very good condition, but if you are not entirely satisfied please get in touch with us.