Samuel Smiles's Self-Help By Steve Shipside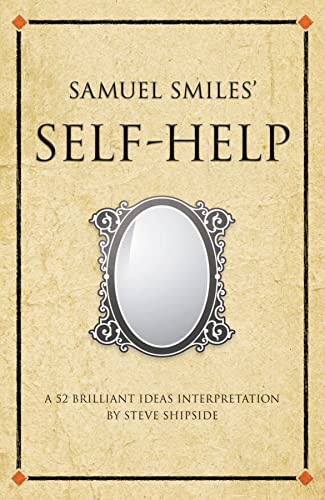 Samuel Smiles's Self-Help
Used Price
$14,99
Free Shipping in the US
Steve Shipside's thoroughly up-to-date interpretation of Samuel Smiles's Self-help, a self-improvement classic, illustrates the principles of Smiles's philosophy with modern examples to enable 21st century readers to transform their lives.
Only 1 left
---
Samuel Smiles's Self-Help Summary
---
Samuel Smiles's Self-Help: A 52 brilliant ideas interpretation by Steve Shipside
An immediate bestseller in 1859, Self-help propelled its author to fame and rapidly became one of Victorian Britain's most important statements on the allied virtues of hard work, thrift and perseverance. Smiles' most celebrated book sold 20,000 copies in its first year, became known as the 'bible of mid-Victorian liberalism' and is the prototype of today's motivational and self-help blockbusters. Steve Shipside's brilliant interpretation of Smiles' Self-help enables twenty-first century readers to put into practice the insights of one of the world's most famous self-improvement books. Discover: * Why being true to yourself will help you avoid debt; * That learning to sod the Joneses is the key to happiness; * How to get back on the horse and learn from failure; * Why every moment counts when it comes to self-improvement; * That learning to visualise victory can help you achieve your goals. This interpretation of Samuel Smiles's Self-help is not a substitute for the original. Its purpose is simply to illustrate the timeless nature of Smiles's insights by bringing them to life in a contemporary context. Samuel Smiles' Self-help is an enlightening, entertaining accompaniment to one of the most famous and inspiring books ever written.
Customer Reviews - Samuel Smiles's Self-Help
---
Why buy from World of Books
About Steve Shipside
---
Steve Shipside is an author, journalist, and blogger. As a trainer with the World Association of News Publishers he has worked in over a dozen newsrooms as a coach for journalists adapting to the digital world and he has worked for some twenty newspapers on ways of using social media to best advantage.
Table of Contents
---
Introduction 1. Learning versus wisdom 2. Self-respect 3. Self-denial 4. On the importance of planning 5. Economise and thrive 6. Be true to yourself 7. Do sweat the small stuff 8. Sod the joneses 9. Unemployment, sickness and death 10. Be bigger than the business 11. Get out of the rut 12. Getting partners on board 13. Strength and strength of character 14. Do your research 15. Beware the luddites 16. A treasure trove of wisdom 17. Burning down the house 18. If you can't make gold, make porcelain 19. Exit strategies 20. Pure genius 21. Get help 22. Getting back on the horse 23. Seeing with the mind 24. It's not just the devil that's in the detail 25. Take notes 26. Using the tools at hand 27. Make the most of every moment 28. All or nothing 29. Winning over resistance 30. Look and learn 31. Visualising victory 32. Go for the throat 33. Lead from the front 34. Think ahead 35. The power of one 36. Big business and big businessmen 37. You make your own luck 38. One thing at a time 39. Keep fit 40. Practice makes perfect 41. Being backwards about coming forwards 42. Fifteen minutes 43. Time wasting 44. Punctuality 45. Be prepared to change your strategy 46. Facing up to financials 47. Accuracy above all 48. The company you keep 49. Cheer up 50. Train, don't tell 51. Cultivate good habits 52. Be prepared to believe the best of people Index
Additional information
Samuel Smiles's Self-Help: A 52 brilliant ideas interpretation by Steve Shipside
Book picture is for illustrative purposes only, actual binding, cover or edition may vary.
This is a used book - there is no escaping the fact it has been read by someone else and it will show signs of wear and previous use. Overall we expect it to be in very good condition, but if you are not entirely satisfied please get in touch with us.