Xixabangma (26,398 ft) Expedition to Tibet 1982 Signed Postcard. By Anon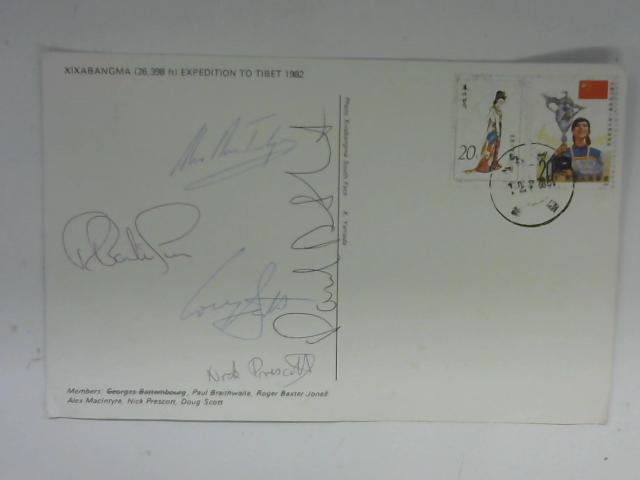 Xixabangma (26,398 ft) Expedition to Tibet 1982 Signed Postcard. Summary
---
Xixabangma (26,398 ft) Expedition to Tibet 1982 Signed Postcard. by Anon
1982. Black and white postcard signed by expedition members Paul Braithwaite, Roger Baxter Jones, Alex MacIntyre, Nick Prescott, Doug Scott. Georges Battembourg's printed name has been neatly crossed out from bottom of postcard. Includes 2 Chinese postmarked stamps. Postcard is bright and clear, with some light tanning and foxing to edges. Corners are a little chipped and creased.
Why buy from World of Books
Additional information
Xixabangma (26,398 ft) Expedition to Tibet 1982 Signed Postcard.
Book image taken of actual book.
This is a used book. We do our best to provide good quality books for you to read, but there is no escaping the fact that it has been owned and read by someone else previously. Therefore it will show signs of wear and previous use.