Disruptive Branding By Jacob Benbunan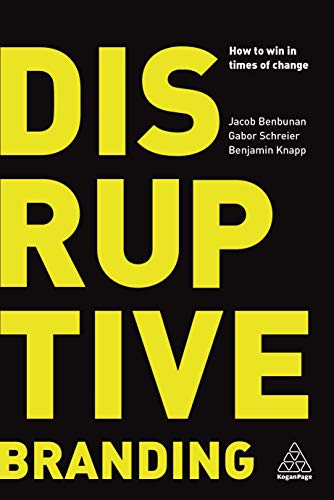 Disruptive Branding
Used Price
$47.99
inc. GST
Free Shipping in Australia
Harness change and challenge disruptive competitors by becoming a disruptive brand with innovation at its core, to deliver unique products and services and ensure growth in a shifting world.
Only 1 left
---
Disruptive Branding Summary
---
Disruptive Branding: How to Win in Times of Change by Jacob Benbunan
Disruptive forces have rewritten the rules of business. In an age of continuous change the strength and authenticity of brands has become more important than ever. The organizations that can master their brand experience are able to survive disruption by disrupting themselves; companies that can't do this will leave themselves ripe for disruption. Disruptive Branding is a practical guide, demonstrating how to harness change to power your brand's survival and ensure growth in a transforming world. It will help ambitious, courageous and aspirational organizations to define their compelling brand strategies, design powerful brand experiences and innovate new brand-led products and services. Disruptive Branding tells the stories of businesses that have succeeded in managing the forces of disruption. From Nintendo fighting off its competition by re-imagining gaming, to Airbnb redefining what it means to travel, modern day brands are thinking faster and smarter than ever before. This book identifies the strategies and designs that some of the world's most successful brands use to stay one step ahead of the curve. It is an invaluable resource for brands working to withstand disruption - or even become disruptors themselves.
Why buy from World of Books
Disruptive Branding Reviews
---
"A treatise on branding in times of change that will guide marketers through their daily challenges."--Stefan Schindele, Brand Strategy, A1 Group
"A truly compelling read for those who believe that the best evidence of corporate authenticity is brand consistency."--Ana Busto, SVP, Brand and Communications, ENGIE
"Jacob Benbunan and his team are the most disruptive people in the branding world, helping anybody in the start-up or corporate world who wants to rock the boat and do things very differently. This book is a must-read for anyone wanting to cause any abrupt or sudden change in new or legacy industries."--Carlos Munoz, Founder, Volotea and Vueling Airlines
"The authors prove that disruption is an attitude of creativity, agility and innovation that all brands should strive for. They provide a detailed and inspiring explanation of the process. A great book - highly recommended!"--Professor Robert Paulmann, Founder, CXI Conference
About Jacob Benbunan
---
Jacob Benbunan started Saffron Brand Consultants with the late Wally Olins. He is today its Chairman and CEO. His clients include Vueling, Akzo Nobel, A1 Telekom Austria, Engie, Sodexo or Siemens. Prior to Saffron he was a Principal at Wolff Olins where he was involved with brands like Orange, Repsol and Acciona. Gabor Schreier is Chief Creative Officer and responsible for the creative teams across Saffron's locations. He was a core player in consolidating Saffron as a leading international brand consultancy. At Saffron, he has had an instrumental role in the work for A1 Telekom Austria, Gulf Air and YouTube. Previously he has also created identities for Daimler and Smart in Germany. Benjamin Knapp is Saffron's Chief Growth Officer, driving corporate strategy and service development. He joined Saffron in 2006 and worked closely with Wally Olins on place and commercial branding projects. His clients since then include Xing, V&A Museum, A1 Telekom Austria and Kyocera. Ben leads Saffron's place branding practice, having worked for a number of cities and countries, from London and Vienna to Poland and Trinidad & Tobago.
Table of Contents
---
Chapter - 00: Introduction - Why it is vital to explore disruptive branding;
Chapter - 01: Convergence and divergence - What change means for brands;
Chapter - 02: What makes you tick - Define what drives your organization;
Chapter - 03: Strategy made visible - Bring your idea alive through design;
Chapter - 04: Help your people to help you - Engage your employees;
Chapter - 05: A promise delivered - Shape the brand experience;
Chapter - 06: Prove it to succeed - Develop on-brand products and services;
Chapter - 07: Building customer loyalty - Disrupt through great service;
Chapter - 08: Your idea made physical - Create branded environments;
Chapter - 09: First impressions - Launch your disruptive brand;
Chapter - 10: Measure, improve, repeat - Measure brand performance;
Chapter - 11: Constant reinvention - Stay ahead in times of change;
Chapter - 12: Index
Additional information
Disruptive Branding: How to Win in Times of Change by Jacob Benbunan
Book picture is for illustrative purposes only, actual binding, cover or edition may vary.
This is a used book - there is no escaping the fact it has been read by someone else and it will show signs of wear and previous use. Overall we expect it to be in very good condition, but if you are not entirely satisfied please get in touch with us.