Storms of My Grandchildren By James Hansen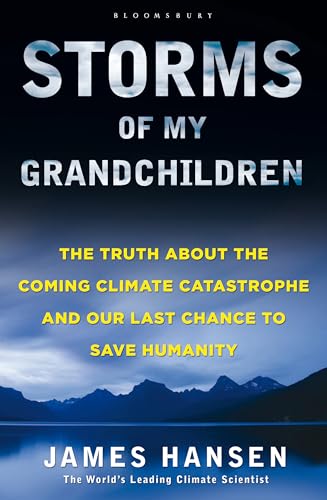 Storms of My Grandchildren
Used Price
$27.49
inc. GST
Free Shipping in Australia
An urgent and provocative call to action from the world's leading climate scientist-speaking out here for the first time with the full story of what we need to know about humanity's last chance to get off the path to a catastrophic global meltdown, and why we don't know the half of it.
Only 2 left
---
Storms of My Grandchildren Summary
---
Storms of My Grandchildren: The Truth About the Coming Climate Catastrophe and Our Last Chance to Save Humanity by James Hansen
In Storms of My Grandchildren, Dr. James Hansen-the nation's leading scientist on climate issues-speaks out for the first time with the full truth about global warming: The planet is hurtling even more rapidly than previously acknowledged to a climatic point of no return. Although the threat of human-caused climate change is now widely recognized, politicians have failed to connect policy with the science, responding instead with ineffectual remedies dictated by special interests. Hansen shows why President Obama's solution, cap-and-trade, which Al Gore has signed on to, won't work; why we must phase out all coal, and why 350 ppm of carbon dioxide is a goal we must achieve if our children and grandchildren are to avoid global meltdown and the storms of the book's title. This urgent manifesto bucks conventional wisdom (including the Kyoto Protocol) and is sure to stir controversy, but Hansen-whose climate predictions have come to pass again and again, beginning in the 1980s when he first warned Congress about global warming-is the single most credible voice on the subject worldwide. Hansen paints a devastating but all-too-realistic picture of what will happen in the near future, mere years and decades from now, if we follow the course we're on. But he is also an optimist, showing that there is still time to do what we need to save the planet. Urgent, strong action is needed, and this book, released to coincide with the Copenhagen Conference in December 2009, will be key in setting the agenda going forward to create a groundswell, a tipping point, to save humanity-and our grandchildren-from a dire fate more imminent than we had supposed.
Customer Reviews - Storms of My Grandchildren
---
Why buy from World of Books
Storms of My Grandchildren Reviews
---
'When the history of the climate crisis is written, Hansen will be seen as the scientist with the most powerful and consistent voice calling for intelligent action to preserve our planet's environment.' Al Gore 'Jim Hansen is the planet's great hero. He offered us the warning we needed twenty years ago, and has worked with enormous courage ever since to try and make sure we heeded it. We'll know before long if that effort bears fruit. If it does, literally no one deserves more credit than Dr. Hansen.' Bill McKibben
About James Hansen
---
Perhaps best known for bringing global warming to the world's attention in the 1980s when he first testified before Congress, Dr. James Hansen is considered the world's leading climatologist. The head of NASA's Goddard Institute for Space Studies, he served as Al Gore's science advisor for An Inconvenient Truth. He teaches at the Department of Earth &Environmental Sciences at Columbia University, lectures at universities and other institutions throughout the world and has been interviewed in the New York Times and other publications. This is his first book.
Additional information
Storms of My Grandchildren: The Truth About the Coming Climate Catastrophe and Our Last Chance to Save Humanity by James Hansen
Bloomsbury Publishing PLC
Book picture is for illustrative purposes only, actual binding, cover or edition may vary.
This is a used book - there is no escaping the fact it has been read by someone else and it will show signs of wear and previous use. Overall we expect it to be in very good condition, but if you are not entirely satisfied please get in touch with us.