When I Die By Philip Gould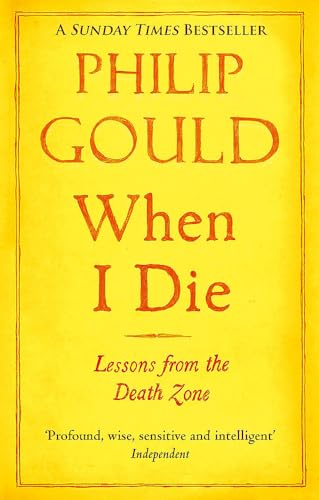 Used Price
$14.49
inc. GST
Free Shipping in Australia
Written during the last few months of Philip Gould's life, this is a hugely inspiring and ultimately uplifting look at his 'lessons from the death zone'
Only 1 left
---
When I Die Summary
---
When I Die: Lessons from the Death Zone by Philip Gould
On 29 January 2008 Philip Gould was told he had cancer. He was stoical, and set about his treatment, determined to fight his illness. In the face of difficult decisions he sought always to understand the disease and the various medical options open to him, supported by his wife Gail and their two daughters, Georgia and Grace.
In 2010, after two hard years of chemotherapy and surgery, the tests came up clear - Philip appeared to have won the battle. But his work as a key strategist for the Labour party took its toll, and feeling ill six months later, he insisted on one extra, precautionary test, which told him that the cancer had returned. Thus began Philip's long, painful but ultimately optimistic journey towards death, during which time he began to appreciate and make sense of his life, his work and his relationships in a way he had never thought possible. He realized something that he had never heard articulated before: death need not be only negative or painful, it can be life-affirming and revelatory.
Written during the last few months of his life, When I Die describes the journey Philip took with his illness, leaving to us what he called his lessons from the death zone. This courageous, profoundly moving and inspiring work is as valuable a legacy to the world as anyone could wish to bestow - hugely uplifting, beautifully written with extraordinary insight.
Customer Reviews - When I Die
---
Why buy from World of Books
When I Die Reviews
---
A brave and unique account of facing death by looking it squarely in the face--Observer
I read it in one sitting, and conclude that it should really be prescribed on the NHS. Even though it's a short and harrowing account of one man's dying, it also is the most life-enhancing book I've ever read--The Lady
In politics, as in life, purpose is all. Nobody understood that better than the late Labour strategist Philip Gould . . . An extraordinarily moving book . . . inspiring in its discussion of mortality; it is also a manual for those undertaking any task, political or otherwise, and trying to make sense of it to themselves and to others--Daily Telegraph
The book's power comes from the urgency and simplicity of the message . . . At a time when few of us know how to face the inevitability of our own extinction, Gould has provided an admirable model--Sunday Times
This was a brave man . . . In the old days, they used to say the dead always send a gift back as they leave us, so we should watch out for it. That is what happened here--The Times, Book of the Week
About Philip Gould
---
Philip Gould was polling and strategic adviser to Tony Blair and was deputy chairman of Freud Communications. He was a visiting professor in media and politics at the London School of Economics and a member of the House of Lords, as well as the author of The Unfinished Revolution. Philip Gould died at the age of sixty-one in 2011.
Additional information
When I Die: Lessons from the Death Zone by Philip Gould
Book picture is for illustrative purposes only, actual binding, cover or edition may vary.
The book has been read, but looks new. The book cover has no visible wear, and the dust jacket is included if applicable. No missing or damaged pages, no tears, possible very minimal creasing, no underlining or highlighting of text, and no writing in the margins.