Teaching and Researching Motivation By Zoltan Doernyei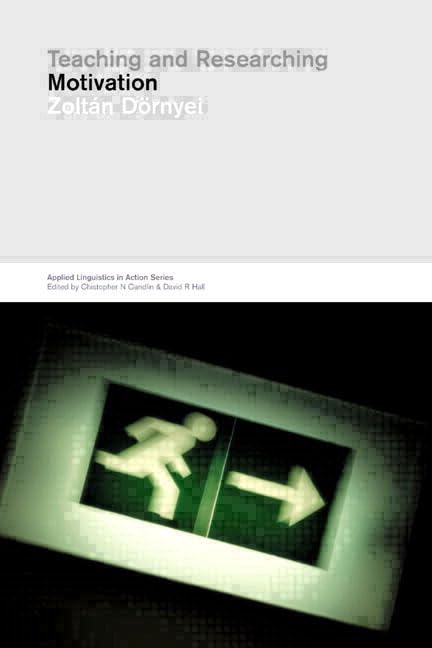 Teaching and Researching Motivation
Used Price
$25.49
inc. GST
Free Shipping in Australia
Most teachers and researchers would agree that any success or failure in language learning is largely dependent on the learner's motivation to learn the foreign language. But what is motivation? This text asks this and other related questions and summarizes the various facets of motivation.
Only 1 left
---
Teaching and Researching Motivation Summary
---
Teaching and Researching Motivation by Zoltan Doernyei
Appropriate for predominantly postgraduate, MA and diploma students of applied linguistics, TESOL diplomas, second language acquisition theory and research, education research and psychology. Teaching and Researching Motivation addresses issues surrounding motivation in language learning: describing what motivation is, how to increase it and how it can be assessed. Based on Dornyei's own well-known theory of language motivation, together with a comprehensive review of both the psychological and the second language literature, this text provides a summary of the various facets of motivation, examines how the theoretical insights can help classroom practitioners in their everyday teaching practice, and offers practical recommendations and tips for language teachers.
Customer Reviews - Teaching and Researching Motivation
---
Why buy from World of Books
Teaching and Researching Motivation Reviews
---
'The text provides an excellent summary of the most important of current approaches to L2 motivation research, and the content is clearly presented by the efficient use of headings and subheadings, figures, tables, quotation and examples.' Joong-ha Lee, University of British Columbia, Vancouver.
Table of Contents
---
Introduction Acknowledgements SECTION 1: WHAT IS MOTIVATION? 1. MAIN CHALLENGES OF MOTIVATION RESEARCH: The challenge of consciousness vs. unconsciousness; The challenge of cognition vs. affect; The challenge of reduction vs. comprehensiveness; The challenge of 'parallel multiplicity'; The challenge of context; The challenge of time 2. THEORIES OF MOTIVATION IN PSYCHOLOGY: Leading motivation theories in psychology; Sociocultural and contextual influences on behaviour; The temporal dimension of motivation 3. MOTIVATION TO LEARN A FOREIGN/SECOND LANGUAGE: Gardner's motivation theory; Expectancy-value theories and L2 motivation; Self-determination theory and L2 motivation; Schumann's neurobiological model; Constructs emerging from empirical studies; L2 motivation and the social context; The temporal dimension of L2 motivation; Dornyei and Otto's Process Model of L2 motivation. SECTION 2: MOTIVATION AND SECOND LANGUAGE TEACHING 4. 'EDUCATION-FRIENDLY' APPRACHES IN MOTIVATION RESEARCH: The educational shift in L2 motivation research; Educationally motivated constructs 5. MOTIVATION AND MOTIVATING IN THE FOREIGN LANGUAGE CLASSROOM: Motivational techniques, strategies and macrostrategies; A framework for motivational strategies; Motivational macrostrategies 6. STUDENT DEMOTIVATION: 'Demotivation' vs. 'Motivation'; Research on demotivation in instructional communication studies; Findings in L2 motivation research; Concluding remarks on demotivation 7. TEACHER MOTIVATION: Conceptualising the 'motivation to teach'; The Relationship between teacher motivation and student motivation. SECTION 3: RESEARCHING MOTIVATION 8. MAKING MOTIVATION A RESEARCHABLE CONCEPT: Inherent problems in motivational research; Initial decisions to make 9. METHODOLOGICAL ISSUES AND CONSIDERATIONS: Research Design; 'Self-report' motivation tests/questionnaires 10. MAIN TYPES OF L2 MOTIVATION RESEARCH: Survey studies; Factor analytical studies; Correlational studies; Studies using structural equation modelling (LISREL); Qualitative studies; Towards a combined use of quantitative and qualitative studies. SECTION 4: RESOURCES AND FURTHER INFORMATION 11. THE LOCUS OF MOTIVATION RESEARCH: Linkages to other Topics and Disciplines; Language learning motivation and related disciplines in the social sciences; The place of motivation research in applied linguistics 12. SOURCES AND RESOURCES: Relevant journals and magazines; Databases, abstracting journals and discussion groups; Sample tests and measurement instruments
Additional information
Teaching and Researching Motivation by Zoltan Doernyei
Applied Linguistics in Action
Pearson Education Limited
Book picture is for illustrative purposes only, actual binding, cover or edition may vary.
This is a used book - there is no escaping the fact it has been read by someone else and it will show signs of wear and previous use. Overall we expect it to be in very good condition, but if you are not entirely satisfied please get in touch with us.