Brunner By Geoffrey Malone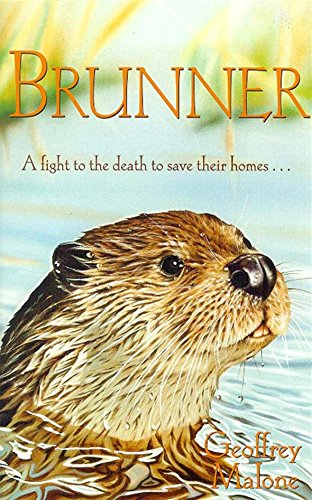 Brunner
by Geoffrey Malone
Brunner's family is killed by hunters. He finds a new home with the beavers of Lake Napachokee, but then greedy developers begin dynamiting the lakeshore to build a holiday resort. For Brunner it's a desperate struggle to save them all from destruction.
Only 2 left
---
Brunner Summary
---
Brunner by Geoffrey Malone
When Brunner's family is killed by hunters, he treks across the snowy wilderness in search of a new home among the beavers of Lake Napachokee.But nowhere is safe. Developers are bulldozing and dynamiting the lake to build a hotel, and all the animals are at risk. Yet - thought they are small - they are determined to resist the might of men and their deadly machines.BRUNNER was originally published in 1994 as THE BATTLE FOR BEAVER LAKE.
Why buy from World of Books
About Geoffrey Malone
---
Geoffrey Malone spent his early life in Africa and did not receive any formal schooling until the age of eleven. He later spent sixteen years as a soldier, then left the UK for Toronto, where he joined a Canadian advertising agency. An encounter with a colony of beavers in the Ontario wilderness during his stay in Canada, led to his first book - Brunner. He returned to Britain determined to write for children. He has now had eight books published, most of which are about wild animals. They are all closely observed and describe the struggle for survival among differing species, in today's man-dominated world. He won the (prestigious) French Children's Book of the Year, TamTam Prize, for Torn Ear, the story of a fox. This was followed soon afterwards by the award of the, Prix d' Enfants et Grand-Parents Europeen. In England, he was shortlisted for the 2001 Stockton Children's Book of the Year, with Elephant Ben, a story about ivory poaching. His subjects have included badger baiting in England; the slaughter of Indian tigers, and life inside a wolf pack, in Wyoming, USA. His latest book, Dead Boys' Club, sees a return to Africa and a vivid description of the horrors of modern day slavery, as a Child Soldier.
Additional information
Brunner by Geoffrey Malone
Hachette Children's Group
Book picture is for illustrative purposes only, actual binding, cover or edition may vary.
The book has been read but remains in clean condition. All pages are intact and the cover is intact. Some minor wear to the spine.